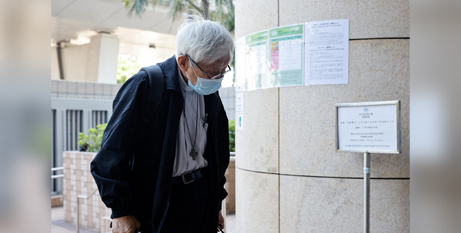 Cardinal Joseph Zen is among six people nominated for the Nobel Peace Prize for championing human rights in Hong Kong. Source: The Tablet.
Four members of the US congress have proposed the group, which includes the newspaper publisher Jimmy Lai and the democracy activist Joshua Wang, "because they are ardent champions of Hong Kong's autonomy, human rights and the rule of law".
A statement from the Congressional Executive Commission on China said: "The nominees are representative of millions of Hong Kongers who peacefully opposed the steady erosion of the city's democratic freedoms by the Hong Kong government and the government of the People's Republic of China."
The other nominees are Toynee Chow Hang-tung, a lawyer prosecuted for commemorating the Tiananmen Square massacre, Gywneth Ho Kwai-lam, a journalist, and Lee Cheuk-yan, a trade unionist.
Human rights campaigner Benedict Rogers, who founded Hong Kong Watch, said "the nomination captures the breadth and scale of the crackdown in Hong Kong, across multiple sectors including law, politics, media, trade unions, civil society and religion".
It also reflected "the extraordinary courage of Hong Kongers", he said.
"This nomination for the Nobel Peace Prize is extremely welcome and wholly deserved," said Mr Rogers, "both for the individuals who have been nominated and for Hong Kong's fight for freedom."
Cardinal Zen, who was recently hospitalised after returning from Rome, was arrested last year and convicted for improperly registering a humanitarian fund, established to support participants in Hong Kong's 2019 democracy protests with medical and legal bills.
FULL STORY
Cardinal Zen among Hong Kong nominees for Nobel (By Patrick Hudson, The Tablet)