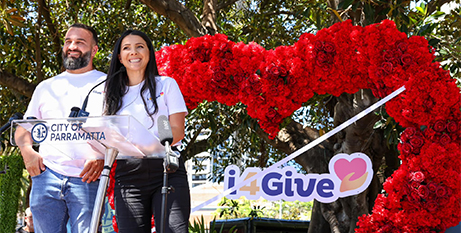 The family of four children who were killed in a nightmare crash in western Sydney three years ago have honoured their children in a new event. Source: News.com.au.
Antoni, Angelina and Sienna Abdallah and Veronique Sakr's lives were taken suddenly in 2020 when a drunk driver veered onto a footpath as the children walked to buy ice cream.
Their mum, Leila Abdallah, beamed with pride and said she was "so happy" to see her vision finally come to life after the Covid-19 pandemic delayed her plans for the i4Give Festival to take place in Prince Alfred Square in Parramatta.
"This is the park where I used to come all the time with my children," she said on Saturday.
"Although Antony, Angelina, Sienna and Veronique are not present in body, but believe me they are present in their spirit."
Ms Abdallah shocked Australia when she forgave the driver who killed her three children and niece just days after their shocking deaths.
Hundreds poured into the park as three of the Abdallah children – Liana, Alex and Michael – offered up heartfelt prayers to their lost siblings.
The i4Give Day foundation was set up by the Abdallah family in the wake of their children's deaths, with its mission statement aiming to "increase community awareness of the power of forgiveness to transform human relationships and to provide resilience toward human flourishing".
The festival is due to become an annual event filled with amusement rides, live performances, and an outdoor movie showing to cap off the day.
Prime Minister Anthony Albanese, former prime minister Scott Morrison, New South Wales Premier Dominic Perrottet and NSW opposition leader Chris Minns were also in attendance at the festival.
FULL STORY
'Present in their spirit': Parents' moving message at festival dedicated to four kids slain in horror crash (By Madeleine Achenza, News.com.au)
RELATED COVERAGE
Third i4Give day will continue to share message of hope, forgiveness (The Catholic Weekly)