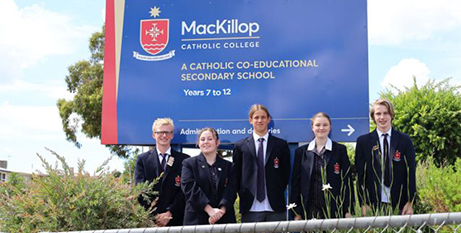 The start of the 2023 school year was particularly significant for three Hobart Catholic colleges, as two schools admitted year 11 students for the first time and one after more than 30 years. Source: Hobart Archdiocese.
MacKillop Catholic College, St Virgil's College and St Aloysius Catholic College welcomed year 11 students to the new academic year, with plans to accommodate year 12 students from 2024.
Executive Director of Catholic Education Tasmania, Gerard Gaskin, said the school extensions were "a wonderful sign of growth" and "of continuing parent commitment to senior Catholic education".
CET launched its Greater Hobart Catholic Extension Project in 2020, with the aim of extending the three schools to include year 11 and 12 students from 2023.
"An unexpected consequence of this project is that the total number of students staying in Catholic education after year 10 has increased across the board in Hobart by about 100 additional students," Dr Gaskin said.
He said initial concerns about the school extensions negatively impacting enrolments at other Catholic colleges offering years 11 and 12 had proved unfounded.
"I am delighted to say that none of these dire predictions came into reality," Dr Gaskin said. "We are now able to offer year 11 and 12 education in five Catholic colleges in Hobart."
Dr Gaskin said the three schools were growing, as were all colleges in Hobart that offer senior education.
"The mission of Catholic education is to bring Christ to our students, to bring our students to Christ and, in doing so, to bring Christ to the world. The opportunity to expose increasing numbers of our senior secondary students to this mission is truly a grace."
FULL STORY
A 'wonderful sign of growth' for Catholic schools in Tasmania (By Catherine Sheehan, Hobart Archdiocese)