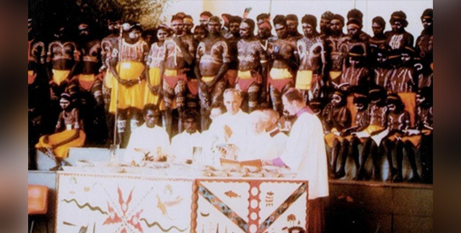 It was at the Melbourne Myer Music Bowl on February 24, 1973, when many of us heard a strong and joyful Aboriginal voice for the very first time. Many voices, in fact, writes Fr Brian McCoy SJ. Source: Eureka Street.
The event, part of the 40th International Eucharistic Congress, was titled the Australian Aboriginal Liturgy and it involved a very large number of Aboriginal people, particularly from the Kimberley of Western Australia and the Northern Territory, who had come down to participate in the event. This group numbered more than 150 adults, teenagers and a children's choir.
This liturgy was, for many of us who were present, the first time we had witnessed and experienced Aboriginal people expressing their Catholic faith in ways that were culturally different from our own but very significant to them. The ancient Catholic liturgy took on a new dimension of life and energy as people sang in their own language, mimed the Word of the Gospel and danced.
This first public and national Aboriginal Liturgy was highly significant. It was the first attempt by the Church in Australia to re-shape the ancient Catholic ritual of the Mass, which itself had already changed and adapted in the light of Vatican II in the late 1960s. In this case, the attempt was in the light of the faith experiences by those belonging to an even more ancient culture. Or, more accurately, Aboriginal cultures. It was no easy task.
The liturgy had been long in the making. It owed much to the energy and commitment of many Aboriginal people who had found encouragement in the living and cultural expressions of their Christian faith.
This new liturgical expression sought to acknowledge that Aboriginal people had lived within a context and consciousness of the transcendent for generations. Religious experience was part of the fabric of their daily lives and the ceremonies they regularly conducted. They knew what it was to have faith in the power and sacramental nature of symbols. They were open and enthusiastic in exploring new ways to express and share their Christian faith.
Fr Brian McCoy SJ was Provincial Superior for the Australian Province of the Society of Jesus from 2014-2020.
FULL STORY
The first Australian Aboriginal Liturgy (By Brian McCoy, Eureka Street)