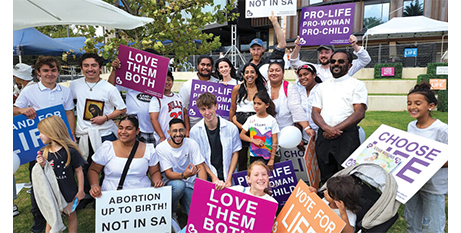 More than 4000 people showed their support for the unborn by attending Adelaide's Walk for Life. Source: The Southern Cross.
Wearing white shirts, the walkers carried placards promoting the message of "love them both" as they gathered at Pennington Gardens and marched down King William Street to Parliament House and back along the pedestrian bridge.
Adelaide Archdiocese Vicar General Fr Dean Marin, who took part in the event, said Christians from various churches and people of goodwill participated, with an increased involvement this year of priests and parishioners from the Adelaide Archdiocese.
He said it was also pleasing to see more young people present.
"Once again this year, all heard the beating heart of a child in its mother's womb," Fr Marin said.
"Mention was made of the recent ruling of the US Supreme Court in overturning the legal right for abortion in the United States and the encouragement it should give to all who are pro-life in the face of abortion."
Fr Marin said participants were encouraged to support the introduction before State Parliament of "Zoe's Law" which would recognise the life of an unborn child taken by a criminal offence and the Children Born Alive Protection Bill before the federal Parliament. This bill would prevent children suffering an abortion and still alive being left to die.
"Overall, the theme was one of the positive witness to the life of both mother and child captured in the posters and the active support for women, without judgement or condemnation, who are facing an unplanned pregnancy," Fr Marin said.
"Local churches were encouraged to become 'houses of refuge' where women facing an unplanned pregnancy can receive all the material and emotional support they may need to care for their child."
FULL STORY
Stepping up for the voiceless (By Jenny Brinkworth, The Southern Cross)