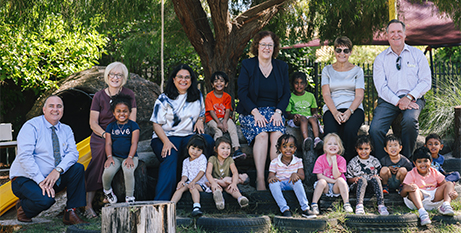 National Catholic Education director Jacinta Collins has visited a number of Perth Catholic schools to see how Catholic education is serving families across Western Australia. Source: Catholic Education WA.
Ms Collins visited St Francis' School in Maddington, St Jude's Catholic School in Langford, and Lumen Christi College in Martin with Catholic Education Commission WA chair Eva Skira, Catholic Education WA executive director Debra Sayce, Catholic School Parents WA executive director Siobhan Allen and representatives of the Catholic Primary and Secondary Principals Associations.
The delegation met with principals, teachers, and students from each of the schools and had the opportunity to hear about the work occurring inside and outside the classroom.
"It's one of the best parts of my job to visit our school communities across Australia and to have the opportunity to speak with students and staff about how they are realising the mission of Catholic education," Ms Collins said.
"CEWA is focused on enabling greater accessibility to Catholic schools and early childhood and care centres in their state, improving the quality of learning and teaching for each and every student, and enriching the faith lives of students and staff which is crucial to this mission."
Dr Sayce said: "It has been a pleasure to be able to give Jacinta a flavour of what is happening in WA's Catholic schools on a daily basis. In meeting teachers and students, I have once again been struck by thoughtful, committed Catholic educators and leadership within our schools."
PHOTO
(From left: Andrew Colley, Catholic Primary School Principals Association; Siobhan Allen, Catholic School Parents Association WA; Dr Debra Sayce, Catholic Education WA; Hon Jacinta Collins, National Catholic Education Commission; Eva Skira AM, Catholic Education Commission WA; Geoff Mills, Catholic Secondary Principals Association with students at St Jude's Catholic School, Langford)
FULL STORY
NCEC Director witnesses examples of thriving Catholic education in WA (CEWA)