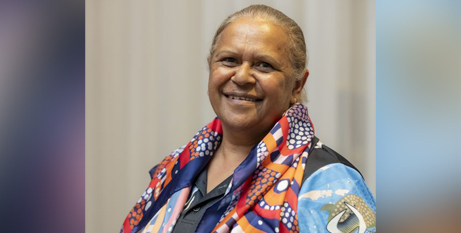 CatholicCare Wilcannia-Forbes board member Lynda Edwards has been named the 2023 New South Wales Woman of the Year.
Ms Edwards was also named NSW Aboriginal Woman of the Year at the NSW Women of the Year Awards presentation in Sydney last week.
CatholicCare Wilcannia-Forbes chief Anne-Marie Mioche said the organisation was thrilled the important work of Ms Edwards had been recognised on the state stage.
"Lynda, a proud Wangkumara and Barkandji woman, is a dedicated advocate for First Nations people in the financial sector," Ms Mioche said.
"Her work has contributed significantly to fairer financial outcomes for First Nations people.
"Her valuable contribution to our community in western NSW also includes serving in the voluntary role of director of the CatholicCare Wilcannia-Forbes board."
Ms Edwards has worked for almost 17 years in the financial sector, sharing her expertise of the sector to educate and increase the financial literacy of the First Nations community.
Prior to this, she was an Aboriginal Liaison Officer with the Department of Aboriginal Affairs and an Aboriginal Community Liaison Officer within the NSW Police Force.
She then spent 11 years as a finance officer with her local council which led to her joining CatholicCare Wilcannia-Forbes as an Aboriginal Financial Literacy Worker with the "Manage Your Income" Program – a project she would later head up for more than nine years.
Ms Edwards' work with CatholicCare Wilcannia-Forbes and Financial Counselling Australia has been pivotal in leading campaigns calling out unethical sales tactics and building financial health across the region.
FULL STORY
CatholicCare Wilcannia-Forbes Board Member wins top women's award (CatholicCare Wilcannia-Forbes)
NSW Women of the Year Awards NSW Aboriginal Woman of the Year (NSW Government)
RELATED COVERAGE
Lynda Edwards' life work teaching independence for Indigenous women has finally been recognised (SBS News)
'We are so far behind': Lynda Edwards says Indigenous voice could spur action on NSW treaty (The Guardian)