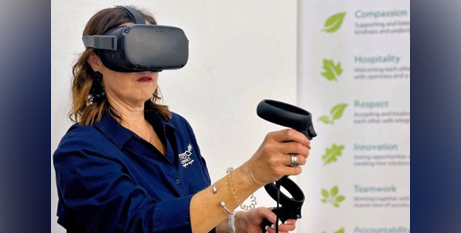 An Albury study by disability service provider Mercy Connect has used virtual reality to give users a first-hand glimpse of what living with an intellectual disability is like. Source: Catholic Health Australia.
The study uses a VR program called IMercyVE to mirror some of the frustration, confusion, fear and/or discomfort clients experience and, in the process, builds empathy for those clients.
Mercy Connect designed the program, using its expertise in teams and staff who have a lived experience from looking after sons or daughters who have a disability.
"Empathy is a key driver to giving good quality service and support for our clients and participants," Mercy Connect chief executive officer Trent Dean says.
"One of the challenges is that as we bring people into this workforce they are either driven by passion or drive to do work and have the experience either lived or someone in their family, or they come from completely out of the sector.
"What we are trying to develop very quickly is the empathy and understanding they may not have without having that lived experience."
The project was funded by Mercy Connect and led by Caroline Cummins, Mercy Connect's executive leader of clinical services.
Mr Dean says IMercyVE was inspired by dementia training he experienced, where participants were put through a series of exercises to experience living with that condition.
"I thought, why couldn't we do that using VR?" he said.
Mr Dean says IMercyVE participants see inside a typical house, with three scenarios for each user and a series of increasingly challenging tasks.
"One is engagement with TV and materials in front of you," he says. "That changes so the graphics are unreadable, the clock does not look right, sounds are escalating – you can hear your heartbeat throbbing.
"The next involves picking up your phone with one of the disability support workers contacting you – the audio changes, creating sensory overload.
"Then they move to the kitchen where tremor is introduced – you are trying to feed yourself, but your hand is moving involuntarily so you cannot do the tasks."
Mercy Connect turned to La Trobe University to evaluate the study, with the eventual findings published in the Journal of Applied Research in Intellectual Disabilities.
FULL STORY
Mercy Connect gives disability workers virtual tour (Catholic Health Australia)