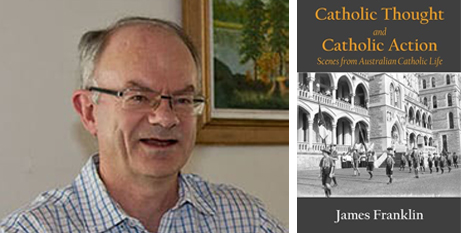 The Catholic community in Australia has had its share of sinners and shameful moments, but these don't detract from its heroes and heroines who helped to shape the country as we know it today, says James Franklin. Source: The Catholic Weekly.
For his new book, Catholic Thought and Catholic Action: Scenes from Australian Catholic Life, Professor Franklin has compiled stories of greater and lesser-known Australians whose unique vision informed their individual and collective action to promote human dignity.
It also tells of darker moments of the Church's life in this country, through testimony of abuser priest Gerald Risdale at the Royal Commission into Institutional Responses to Child Sexual Abuse.
The University of NSW professor also tries to assess the little-known Magdalene Laundries, run mostly by the Sisters of the Good Shepherd, which were intended as refuges for orphan and "wayward" girls and young women, but have been accused of harsh and oppressive conditions.
"History is about what really happened and trying to understand what happened, not what we would like to have happened," Professor Franklin says.
"What people did wrong doesn't detract from what the heroes and heroines did, but we need to try to understand the whole picture."
The book centres on the idea that a particular theological and philosophical mindset prompted some of our most inspiring Catholics, including St Mary of the Cross MacKillop, Bishop Francis Xavier Gsell and Arthur Calwell, to do the things they did.
"They were people who were smart and informed by faith which was not a simple but a very theoretical faith," Professor Franklin said.
"They understood their scripture and then were energised with an energy that was extraordinary and directed not only internally within the Church but opened out to wider society as well.
"Their perspective was based on what Jesus says in the Gospels about loving your neighbour and it seems to be different from both Protestant and secular perspectives on ethics."
FULL STORY
New book highlights Australian Catholics whose visions informed collective action (By Marilyn Rodrigues, The Catholic Weekly)