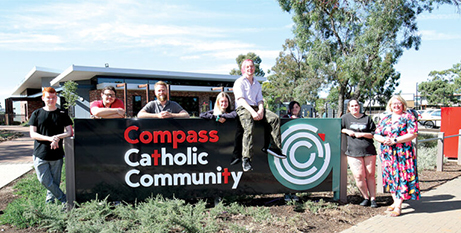 The unique educational offerings of Adelaide's Compass Catholic Community have been embraced by young people, with enrolments hitting nearly 100 after only one year of operation. Source: The Southern Cross.
The fee-free secondary school for 17 to 24-year-olds, many of whom have become disengaged from mainstream education, opened its doors last year with 30 students on its books. As word of the new school spread numbers have continued to increase, with enrolments now about 100 and views to expansion as it nears capacity.
Reflecting on the first year, principal Kelly Bunyon said the school's unique model had been welcomed and they were receiving more referrals from the wider "helping" community of service providers and social workers.
"Our students are also starting to bring their friends along – they are saying this place has really helped me and it might be good for you," she said.
"We're also finding more students who are not experiencing the success they wanted in year 12 and are looking for a different experience to achieve all those goals that they had.
"We're very fortunate as we have really great community support and good support from within Catholic Education and our fellow colleges around us. We get referrals for students from other colleges and the Department of Education, too. In general, we don't get a lot of negativity."
Last year also saw the completion of facilities at the Davoren Park site. The main building is the centrepiece of learning, with an outlying kitchen hub providing the opportunity for students to gain a Certificate I and II in Hospitality. A dedicated early years hub offers care for pre-kindergarten-aged children of students at the school.
Adelaide Archbishop Patrick O'Regan officially blessed the school last month, heralding the completion of stage one of a community services "village" being developed by the Adelaide Archdiocese and Catholic Education SA.
FULL STORY
Heading in the right direction (By Lindy McNamara, The Southern Cross)