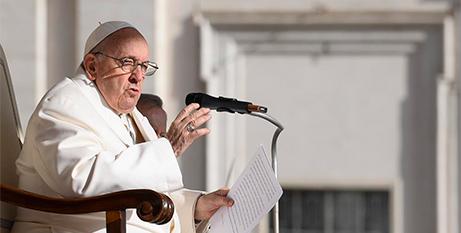 After having difficulty breathing yesterday, Pope Francis has been diagnosed with a respiratory infection that will require treatment in hospital for several days. Source: OSV News.
In the past few days, said a statement from the Vatican press office, "Pope Francis complained of some respiratory difficulties and this afternoon he went to Agostino Gemelli Polyclinic for some medical tests. The outcome of these showed a respiratory infection — a COVID-19 infection was excluded — that will require several days of appropriate medical treatment in the hospital."
"Pope Francis is touched by the many messages he's received and expresses his gratitude for the closeness and prayer," the press office said.
About six hours earlier the press office had said the Pope was at the Rome's Gemelli hospital for "previously planned tests".
Before acknowledging the Pope would be hospitalised for a few days, a Vatican official said audiences with the Pope scheduled for March 30 and 31 had been cancelled "to make room in his agenda for the tests to continue" if needed.
Several Italian media outlets reported, however, that Pope Francis was taken to Gemelli by ambulance.
The Gemelli hospital, part of the Catholic University of the Sacred Heart, keeps a suite of rooms reserved for the popes on its 10th floor.
In a late January interview with the Associated Press, Pope Francis had said that the diverticulitis, or bulges in his intestinal wall, had "returned," but he insisted he was in good health for his age, which is 86.
Pope Francis had spent 10 days in Gemelli hospital in July 2021 after undergoing a three-hour surgery that included a left hemicolectomy, which is the removal of the descending part of the colon, a surgery that can be recommended to treat diverticulitis.
FULL STORY
Pope Hospitalised For Respiratory Infection, Vatican Says (By Cindy Wooden, OSV News)
RELATED COVERAGE
Pope Francis grateful for closeness and prayers as he undergoes medical check-ups (Vatican News)
Update: Pope Francis will remain in hospital for several days with respiratory infection (America Magazine)