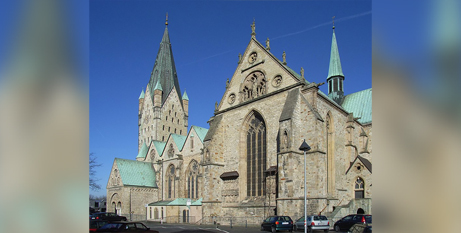 The Vatican has underlined that lay Catholics may not participate in the election of a bishop and has turned down another of the German synodal path initiative's reform proposals. Source: The Tablet.
Last September, the German archdiocese of Paderborn took up the synodal path initiative's reform proposal titled "Involvement of the faithful in the appointment of the diocesan bishop". By drawing lots, it chose 14 lay Catholics who would join the 14 members of the cathedral chapter in selecting a list of candidates that the chapter submits to the Pope.
The way bishops are appointed in German dioceses differs according to the rules laid down in the concordats between different German states and the Holy See.
In Paderborn, the 14 members of the cathedral chapter draw up a list of possible candidates, submit it to the Vatican which chooses three names from the list and sends them back to Paderborn. The chapter then selects one of the three candidates as archbishop.
On April 12, the 14 lay members in Paderborn received a letter from cathedral provost, Fr Joachim Göbel, informing them that in order to guarantee the legality of the episcopal election, the Vatican could not allow them to participate in it.
The papal nuncio in Germany, Archbishop Nikola Eterovic, had passed on the Vatican's message, which had been "absolutely clear" on this, Fr Göbel underlined in his letter.
Fr Göbel regretted the Vatican's decision. A majority of the chapter members in Paderborn had been in favour of expanding the right to vote to lay members of the faithful. The archdiocese has been vacant since October 2022, when Archbishop Hans-Josef Becker retired on becoming 75.
FULL STORY
Another decisive Vatican 'no' for German reformers (By Christa Pongratz-Lippitt, The Tablet)