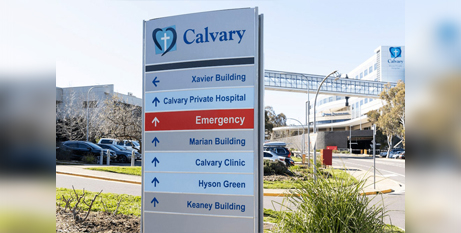 Calvary Public Hospital has reaffirmed its commitment to professional, non-judgmental quality care after the health facility was misrepresented at an ACT abortion inquiry last week. Source: Catholic Voice.
Calvary chief medical advisor Dr Tracey Tay said the hospital took its role as a public health provider "very seriously".
Dr Tay stated that while Calvary did not offer elective termination of pregnancy, emergency treatment would always be provided.
"Canberra women can be assured Calvary Public Hospital Bruce absolutely does and will continue to care for them and provide immediate emergency treatment when experiencing miscarriage," she said.
In a report published last Tuesday, the ACT legislative assembly committee inquiry also recommended the ACT Government intervene in Calvary's decision not to provide elective terminations.
Canberra-Goulburn Archdiocese's chancellor Patrick McArdle said Catholic health facilities were upfront in their stance.
"You can't require a corporate entity like the hospital to act contrary to its conscience. That would be a fundamental breach of the nature of our understanding of human rights," Mr McArdle said.
"People are entitled to know there are services we don't offer. We are committed to life in all its forms, from conception to natural death. That's part and parcel of our commitment to being compassionate and merciful. First and foremost, we are required to be compassionate. And for us, that means enhancing life, not seeking to end life."
Mr McArdle said while Calvary did not involve themselves in deliberate acts intended to end life, the hospital would always treat the clinical conditions that were presented.
He said upcoming legislation around euthanasia was another instance where Catholic organisations would face pressure to relax what the Government perceived as "unreasonable".
"We are unambiguously arguing for the defence of life," he said.
FULL STORY
'We are unambiguously arguing for the defence of life' (By Veronika Cox, Catholic Voice)
RELATED COVERAGE
Euthanasia in the ACT: Love does not kill love (Catholic Voice)