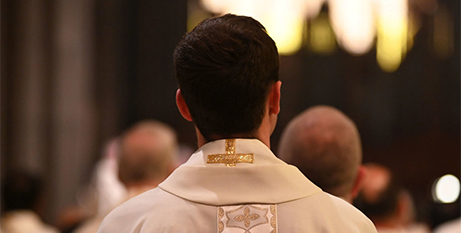 A foundation that has supported priestly and religious vocations for more than 40 years is inviting Catholics to offer prayers and financial support to men and women making lifelong commitments to the Church. Source: Melbourne Catholic.
The Serra Foundation emerged from Serra Clubs, which were first established in the United States to support vocations. The first Serra meeting held in Australia was in 1968, with the first clubs formally convened in Sydney and Melbourne in 1970.
The Foundation began in 1982 and in the decades since, tens of thousands of dollars have been donated and distributed to support vocations and vocations-related activities.
The Foundation's board of trustees chair Neville Hackett says funds have been used to help seminarians and young pilgrims attend World Youth Day, to help people undertake discernment, to support and expand facilities at seminaries, to assist education and training, and to help people participate in retreats, among many other activities.
"Our Church is deeply indebted to the men and women who commit to lives of prayer, service and ministry," Mr Hackett said.
Membership of Serra clubs is open to all practising Catholic lay men and women, and to permanent deacons.
Maitland-Newcastle Bishop Michael Kennedy has served for many years as episcopal adviser to Serra Clubs and the Foundation. 
Find our more about Serra Clubs and the Serra Foundation.
FULL STORY
The Serra Foundation: raising awareness about vocations (Melbourne Catholic)