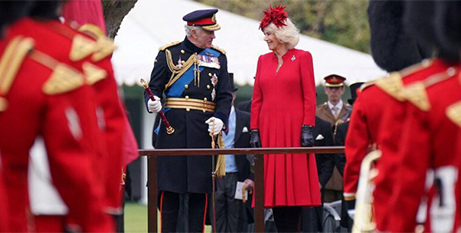 When King Charles III is crowned on Saturday, it will be an opportunity to reaffirm Christianity's place in public affairs, including the presence of Britain's small but significant Catholic minority. Source: OSV News.
"Being anti-Catholic has been an element of British identity for centuries," Fr Timothy Radcliffe, former master of the Dominicans and one of Britain's best-known Catholic preachers, told OSV News.
"I'd hope an event like this will help our Church become yet more integrated into national life at a time when, like most countries, we face threats of disintegration, increasing inequality and a declining sense of the common good."
King Charles inherits the duties and prerogatives of head of state in an unbroken line of monarchs dating back to the 10th century. He also assumes the role of supreme governor of the Church of England, along with the traditional title of "fidei defensor" or "defender of the faith", bestowed by Pope Leo X on King Henry VIII in 1521.
And while he's long declared his wish to be defender of all faiths – not just one – in a modern multicultural society, King Charles III reaffirmed his Protestant identity in speeches after the death of Queen Elizabeth II in September 2022. He will reaffirm it again during the coronation service.
This has caused some disappointment, not least among Britain's Catholics.
The Catholic Church will be represented at the service by Cardinal Vincent Nichols of Westminster, who will share a blessing with Protestant and Orthodox leaders. Catholic bishops from Wales, Scotland and Northern Ireland and the Vatican's secretary of state, Cardinal Pietro Parolin, will also be present.
But Catholic prelates were not included among 50 public figures assigned formal roles in the order of service, published April 28. This will include a Bible reading by British Prime Minister Rishi Sunak, a practising Hindu, and the presentation of regalia by Muslim, Jewish, Sikh and Hindu leaders.
Although Catholic clergy aren't playing a significant role in the coronation, they'll at least be present — for the first time since Henry VIII and his Reformation.
FULL STORY
Britain's Catholics prepare for king's upcoming coronation (By Jonathan Luxmoore, OSV News)