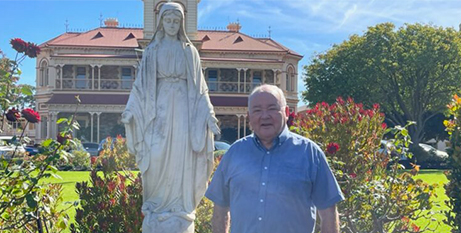 In his 60th year as a Marist Brother, Des Howard is proof that it's never too late to find new ways to live out your vocation. Source: The Southern Cross.
When Br Des returned to his hometown of Adelaide two years ago to lead the small community of Marist Brothers at Somerton Park, he was keen to contribute to the wider society.
While establishing the province's first dedicated community for "senior" brothers in Melbourne, he volunteered at the House of Welcome, a centre run by the Sisters of Charity for people living on the streets.
When he mentioned to Adelaide Archdiocese prison chaplain Mel Monfries that he had an interest in this ministry, she was quick to take him up on the offer and introduced him to the principal chaplain, Ian Schneider.
After a two-day training program and "vetting" by one of the longer-serving prisoners to ensure he wasn't going to "proselytise", Br Des began visiting Yatala Prison one day a week. As well as seeing eight prisoners each Wednesday, he runs Sunday worship services twice a month and participates in ecumenical services that are shown on closed-circuit television throughout the prison.
"It's been really life-giving to be involved with other denominations," he said.
But 80-year-old Br Des doesn't refer to himself as a religious brother when in the prison. He is simply "Des", a lay person who is also a chaplain.
"I don't put God on anyone, we just talk in general and I get to know them, it's a privilege really.
"Some share deeply about their story and their life, so it's a listening and support role.
"I don't represent the law or society, I just come as a friend. We generally share a joke and finish with a spontaneous prayer, often requested by the men themselves."
FULL STORY
Living the Marist mission at home and abroad (By Jenny Brinkworth, The Southern Cross)