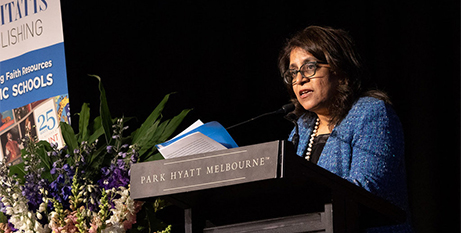 Cabrini Health's Natasha Michael has encouraged a group of 200 Catholic professionals to surround themselves with "greatness of mind, greatness of heart, greatness of spirit". Source: Melbourne Catholic.
Associate Professor Michael, director of palliative care at Cabrini Health, was the guest speaker at the Melbourne Catholic Professionals lunch at the Park Hyatt last week.
Melbourne Catholic Professionals aims to create opportunities for Catholic professional men and women to network and support the life and mission of the Church in Melbourne. This was the first of three luncheons planned for this year, all of which will focus on current issues and trends in the life of the Church in a friendly atmosphere with food and fellowship.
Professor Michael has rich experience in medicine and academia and was an important voice in raising concerns about Victoria's Voluntary Assisted Dying (VAD) program. Her address reflected on her life journey, on growing up in Malaysia in a devoted Catholic family and eventually moving to Leeds in the United Kingdom to study medicine.
This move was particularly jarring for her, as she moved away from a homeland rich with "devotional Catholicism", while England offered "churches [that] were cold and empty" and where "fellowship was non-existent". But it also "exposed a significant gap in my formation, which was formation in the intellectual tradition of the Church".
In England, she also met many medical practitioners who brought their Catholicism into their work and their witness left a lasting impression on her. She had encouraging words for the professionals attending the event.
"Work for me has always been a mode of prayer," she said. "Work gives us dignity of life. In order to live well the norm of work, we need to work well, with an intensity and supernatural awareness.
Professor Michael said working in palliative care and "constant exposure to dying is a reminder to me of our divine filiation: the fact that we are daughters and sons of God".
"Life is too short," she went on. "Surround yourself with greatness – greatness of mind, greatness of heart, greatness of spirit, kindness and kinship. Foster the virtues of courage, fortitude, hope and love within you. Demonstrate magnanimity and humility in your workplace … Put your hand up. Be doers and not talkers. Share your faith with others."
Details: Melbourne Catholic Professionals.
FULL STORY
'Surround yourself with greatness': over 200 attend professionals luncheon (Melbourne Catholic)