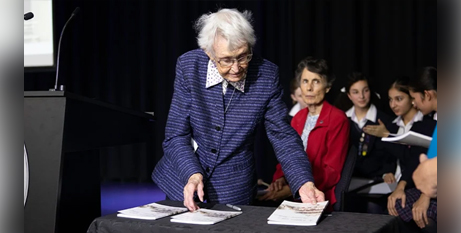 After losing both her mother and father at the age of six, Irene Kedgley found a home with the Presentation Sisters in Sydney, living on the grounds of Domremy College Five Dock for 18 years. Source: The Catholic Weekly.
Her story is now in print after the publication of a new book, The Orphan with a Hundred Mothers, which recounts her life at Domremy in 1920s Sydney.
Written by 93-year-old Sr Noela Fox PBVM, the book follows Kedgley's journey from being adopted by Mother Joseph Dunne, the foundress of the college, through to her later years as an honoured guest of the school.
Sr Fox never personally knew Kedgley but felt close to her by exploring her legacy.
"I first thought about writing this book over a year ago and I thought at the time that someone should tell the Irene story," Sister Fox said.
"But, as usual, someone never did. So I thought, 'I suppose I'll have to be that someone.'"
The Presentation Sisters were joined by former teachers and students at Domremy for the official book launch on May 2.
Sr Margaret Barclay PBVM, a former student of Domremy, said the event was a significant milestone and celebration of the college's heritage.
"It's quite an amazing story. You could imagine the sisters taking in a six-year-old child who wasn't even a Catholic," Sr Barclay said.
Kedgley's legacy lives on: the beautiful rose garden around the Domremy driveway is a memorial to her first husband, Ray Maher, in whose name the college also awards a prize for English and mathematics.
Sr Barclay thanked Sr Fox for, "giving flesh to a story so readable, and that tells us that nothing is impossible with God."
FULL STORY
The orphan with a hundred mothers (By Tasmyn Haynes, The Catholic Weekly)