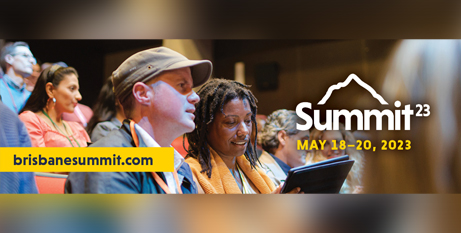 More than 600 delegates are this week attending Summit 2023, the Archdiocese of Brisbane's principal gathering for this year.
The three-day event, which commenced yesterday at the Riverlife Centre in Brisbane's west, carried an open invitation from Archbishop Mark Coleridge to all who belong to the archdiocese's faith community.
Registrations have come from a broad cross-section of the local Church, with parishioners, educators, parents, support staff, catechists, lay leaders, religious and clergy all represented.
Speaking to The Catholic Leader just prior to the start, Event Organiser and Evangelisation Brisbane staff member Nattasha Mierendorf said she was excited about hearing from some of the best Catholic voices in the country.
"The Summit's intention is to empower, inspire and equip delegates to engage in the mission of the Church," Ms Mierendorf said.
"It will include keynote presentations and panel discussions, masterclasses and moments for personal encounter with Christ through prayer, praise, and Eucharist.
"I hope participants in Summit 2023 will find a light that they can share in their own way with family, faith communities and workplaces.
"With so many people coming together I'm also excited about what the Holy Spirit will do in this space," she said.
In addition to the workshops and personal encounter with Christ, attendees will also share in Archbishop Coleridge's vision for the future.
These include the seven Apostolic Priorities he has identified for the archdiocese.
They were first expounded in the "With Lamps Ablaze" document, something he penned during a retreat over the summer break.
"We are at a point now where we can't just wait for the future to fall into our laps," Archbishop Coleridge said.
"We have to listen to God in order to shape the kind of future, together, that God wants."
FULL STORY
Brisbane Archdiocese reaches for the Summit (Brisbane Archdiocese)