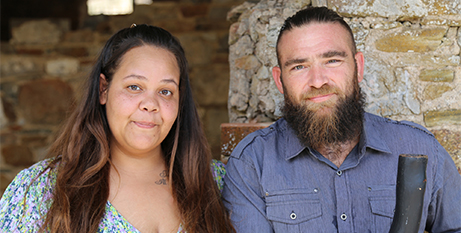 Emerging Ngadjuri artists Adam and Elley Warrior have painted one of two huge rocks at Sevenhill winery, in South Australia's Clare Valley, to commemorate the deep bond between the Jesuits and their own ancestors. Source: Australian Jesuits.
Painting in front of an audience was a first for the husband-and-wife team. Commissioned to paint one of two slate rocks – one weighing six-and-a-half tonnes and the other eight tonnes – near the entrance to Sevenhill, they were delighted to have a variety of onlookers.
Not Jesuits. Not parishioners. Not townspeople. Not tourists.
There were kangaroos and koalas, magpies, kookaburras, crows, rainbow lorikeets and even lizards.
"There were butterflies too," Elley said. "We can't forget the butterflies. There was this one butterfly that just kept coming up all the time and sitting on Adam while he was painting. The creatures all just came up to see what we were doing. It was very magical."
The story behind the rock project begins in 2016. Sevenhill superior Fr Brendan Kelly explained that an artist named Ian Marr asked Mike Christophersen, the then-general manager of Sevenhill, if he would be interested in doing something with two huge columns of Mintaro slate "to acknowledge the original inhabitants of this land".
Acknowledged as one of the best slate varieties in the world, Mintaro slate was used in the construction of the St Aloysius' Church at Sevenhill, which was completed in 1875.
"When Fr Brendan first approached us," Adam said, "he explained to us the story about how the Jesuits first came to meet the Ngadjuri people and the bond that was formed between the two. Therefore, our painting represents the journey of the first Jesuits over to these hills, and it incorporates their first meeting and subsequent encounters with our people, as well as the exchange that took place between the Jesuit ways and the Ngadjuri ways.
"It was all about the bond that existed, how it was formed and how it was strengthened. That's exactly what the painting describes. That's what the centrepiece of our art is on these rocks."
FULL STORY
Rock Stars (By David McMahon, Australian Jesuits)