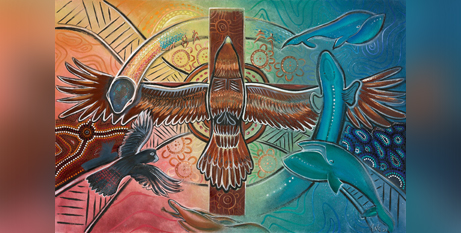 Sydney Archdiocese has launched its Reconciliation Action Plan, with Archbishop Anthony Fisher OP asking Sydney Catholics to commit to acknowledging and healing relationships with Aboriginal and Torres Strait Islander people. Source: The Catholic Weekly.
In his introduction to the plan, Archbishop Fisher quoted St John Paul II's famous words at Alice Springs in 1986: "You are part of Australia and Australia is part of you. And the Church herself in Australia will not be fully the Church that Jesus wants her to be until you have made your contribution to her life and until that contribution has been joyfully received by others."
Archbishop Fisher said: "We have made great strides in our lifetime towards these goals but there is still much to do, and this plan seeks to set us on such a course".
The RAP was launched at the Polding Centre by archdiocesan justice and peace promoter Fr Peter Smith, Sydney Auxiliary Bishop Daniel Meagher and Lisa Buxton, executive officer of Sydney's Aboriginal Catholic Ministry.
Dr Buxton, a Yugambeh and Bundjalung woman, gave the acknowledgement of country and told staff that national reconciliation week grew out of the 1993 week of prayer and reconciliation supported by Australia's faith communities.
Fr Smith said that while the RAP was the outcome of a long process, it was "an opportunity, not a task."
"I believe that reconciliation is our stock in trade as Catholics. It's what we do, and what we are good at," he said.
"It always seems to me that the first point I have to deal with in reconciliation is reconciling myself and my own heart. Reconciliation requires a change of heart."
The RAP launch was accompanied by the commissioning of a new artwork for the archdiocese, titled Coming Together, to Gather as One, produced by Gumbaynggir/Dhungatti man Richard Campbell, whose artworks gained prominence during World Youth Day 2008, and his nephew, Gumbaynggir/Birrpai artist Evis Heath.
FULL STORY
Archdiocese of Sydney launches Reconciliation Action Plan (By Adam Wesselinoff, The Catholic Weekly)