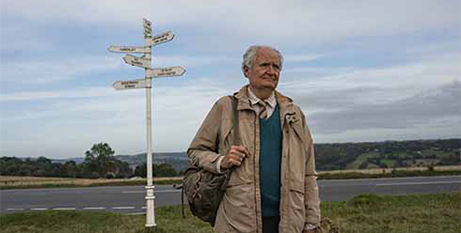 In The Unlikely Pilgrimage of Harold Fry, a retired pensioner walks the length of Britain to offer support to a dying friend. Source: Australian Catholics.
Harold Fry (Broadbent) is a mild-mannered, elderly pensioner who lives in Devon, an historic county in southwest England. He has an unexciting, routine marriage to his wife Maureen (Wilton).
Harold receives word in the post from a former work colleague, Queenie Hennessy (Bassett), that she is dying from terminal cancer and has been hospitalised. Her plight jolts him out of his routine life and he decides to begin an unlikely pilgrimage to offer support to his dying friend.
Without help, or any overt understanding by Maureen, Harold resolves to walk the length of Britain in over a 500-mile trek from Devon to northern England to offer emotional support to Queenie. On his way, he encounters a variety of persons, who express sympathy for his decision to walk the roads of Britain. He understands the value of support, ever since his only son David (Cave) took his own life in a garden shed at home, after struggling with acute depression and drug addiction. His son's death has left him with traumatic memories, that he has shared with his wife. Harold desperately hopes that Queenie is still alive when he reaches her, and he realises that he must do something to support his forgotten friend.
Harold began his walk without letting Maureen know, and Maureen's reaction is heartrending.
Filming for his unlikely pilgrimage was conducted on location to match Harold's journey, and the film features a musical soundtrack with original songs composed for the movie.
What begins as an unassuming movie morphs into a wrenching examination of grief and guilt as we, the viewers, come to realise what Harold is running away from.
Review by Peter W Sheehan, Jesuit Media
The Unlikely Pilgrimage of Harold Fry: Starring Jim Broadbent, Penelope Wilton, Linda Bassett, Earl Cave and Nina Singh. Directed by Hettie Macdonald. Rated M. (Mature themes, suicide and coarse language). 108 min.
FULL REVIEW
The Unlikely Pilgrimage of Harold Fry (Jesuit Media via Australian Catholics)