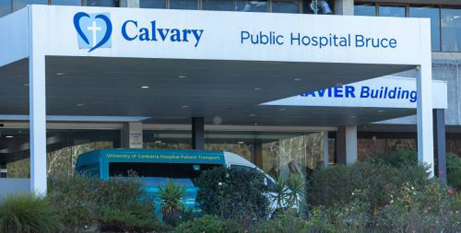 Calvary has expressed disappointed at the ACT Supreme Court's decision to dismiss the application challenging the validity of the ACT Government's attempt to compulsorily acquire Calvary Public Hospital and says it will continue to put its staff at the centre of the transition. Source: Catholic Voice.
Calvary National Chief Executive, Martin Bowles, said the decision to mount a legal challenge against the proposed compulsory acquisition of Calvary Public Hospital Bruce was taken in the best interests of staff, the broader Calvary business and the Canberra community.
"The past five weeks have been harrowing for our Calvary Public Hospital Bruce staff and partners, our organisation as a whole, the wider community and even those working at Canberra Health Services," Mr Bowles said.
"For 44 years Calvary has been a trusted local healthcare provider in the Territory and we were committed to the remaining 76 years of our contract. However, the ACT Government instead chose to legislate to end a longstanding commercial arrangement with us, even though we have not breached the conditions of our contract."
This was despite previously providing an option to the ACT Government to transfer land, build a new hospital and ensure Calvary continue delivering the public health services.
"However, Calvary will comply with the legislation in relation to transition and we look forward to receiving a detailed and more realistic plan from the ACT Government," Mr Bowles added.
Calvary stands by its actions since May 2022, entering negotiations in good faith and investing considerable time to reach a compromise with the ACT Government over the proposed new hospital, the statement said.
"I want to personally thank our 1800 staff, who have remained dedicated to delivering outstanding care even during these trying times and Calvary will ensure they are appropriately supported throughout the transition period," Mr Bowles said.
Calvary will consider the ACT Supreme Court judgement once it is made available.
FULL STORY
Calvary continues to put staff at the centre of ACT transition (Catholic Voice)
RELATED COVERAGE
Calvary to comply with the ACT government's legislation to compulsorily acquire Bruce public hospital (Canberra Times)