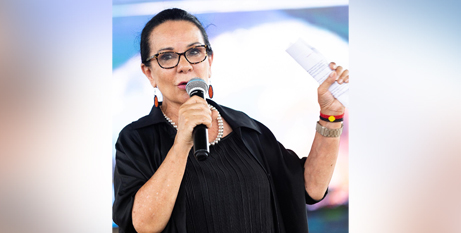 Linda Burney and supporters of an Indigenous Voice to Parliament are rejecting calls to reset the Yes campaign or delay the referendum, with the Indigenous Australians Minister declaring Australia has come too far to turn back now. Source: The Australian.
As polling continues to show a fall in support for the voice and Peter Dutton urges Anthony Albanese to unite the country by pursuing only constitutional recognition, Ms Burney accused the No campaign of importing American Trump-style politics by weaponising misinformation.
Digging in behind the Government's chosen model for the Voice, which has the power to make representations to the parliament and executive government on matters affecting Aboriginal and Torres Strait Islander people, Ms Burney told the Committee for Economic Development of Australia's state of the nation conference on Tuesday night: "We have come too far as a nation on this journey of reconciliation to turn back now."
Some Yes campaigners conceded that, whatever the polls said, they had to turn the tide and make the voice more palatable.
The latest Newspoll, conducted for The Australian, revealed only 46 per cent of voters approved of altering the Constitution to give effect to the voice as proposed by the Government.
The Opposition Leader said Australians knew instinctively that inserting a new chapter into the Constitution was a very big deal and not something that could be done without detail.
Mr Dutton said he would work with the Prime Minister to pursue constitutional recognition, but he didn't specify how.
Megan Davis and Pat Anderson, co-chairs of the Uluru Dialogue who have travelled across the country to advocate for the Voice, said when they sat down and explained the difference the voice would make, Australians were more than ready to vote Yes.
FULL STORY
'We can't turn back now', Linda Burney digs in on Indigenous voice to parliament model (By Rosie Lewis, The Australian)
RELATED COVERAGE
'Keep the faith': Voice to Parliament architects remain hopeful as poll shows referendum support falling (9 News)