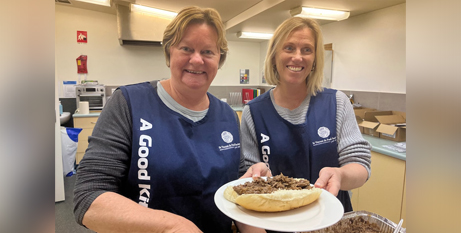 A St Vincent de Paul Society initiative in north-west Victoria is offering rough sleepers and people struggling financially the opportunity to have a hot meal in a social setting. Source: ABC News.
A Good Kitchen was started by the Catholic charity after the local branch found food relief recipients often did not have kitchen facilities for cooking a hot meal.
Volunteers serve two courses each Tuesday between 6pm and 8pm, with pulled beef, chicken salad, spaghetti bolognaise and sticky date pudding among recent offerings.
The guests can also help themselves to donated bread, fruit and vegetables as well as items of clothing, such as warm socks and beanies.
The rising cost of living is forcing more people to seek out food relief, some for the first time, as data from Foodbank Australia shows more than half of the two million struggling Australian households have someone in the home in paid work.
At the same time, food rescue organisation, OzHarvest has found almost half of the charities it supports cannot meet the demand for aid.
The volunteers at A Good Kitchen cater for 50 guests each week, but during peak times of the year, as many as 70 might arrive.
"There is big demand," said Goodie Hiensch, who runs the service.
"People have school, the doctor and the dentist, which can cost a lot of money, so we try to make it that little bit easier.
"If we could do this more than once a week, we would, but we just can't.
In addition to offering food aid, A Good Kitchen supports those dealing with social isolation, including the elderly and new arrivals.
Ms Hiensch said the service initially provided takeaway meals only, but after the pandemic it changed to a sit-down dinner so the guests could meet each other and get to know the volunteers.
FULL STORY
Victorian food aid service A Good Kitchen fighting hunger and social isolation as cost of living bites
(ABC News)