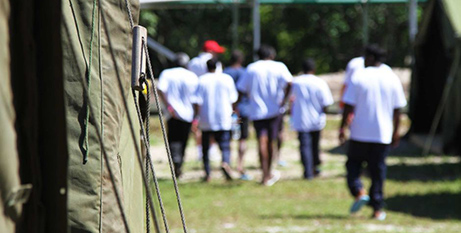 The last refugee held by Australia on Nauru has been evacuated off the island, flying into Brisbane on Saturday night, marking the end – at least for now – of more than a decade of offshore processing on the Pacific island. Source: The Guardian.
However the Australian Government says it remains committed to offshore processing as a policy. It maintains an offshore detention centre in abeyance on the island, at an annual cost of $350 million, which it says is "ready to receive and process any new unauthorised maritime arrivals".
Human rights and refugee advocacy groups have welcomed the end of offshore processing on Nauru, but said many of those held suffered irreparable damage in indefinite detention on the island.
Australia's second iteration of offshore processing on Nauru began in September 2012. The number of refugees and asylum-seekers held on the island peaked in August 2014 at 1233 people.
A handful of flights over the past month has seen the final remaining refugees transferred off the island. Two asylum-seekers will remain on the island, facing domestic legal charges, and one refugee has married on Nauru and has chosen to remain.
There are still 80 refugees and asylum-seekers held in PNG, most in Port Moresby.
Jana Favero, director of advocacy at the Asylum Seeker Resource Centre, said "one chapter of misery is over" and praised the Government's action in evacuating the remaining refugees and asylum-seekers.
Ms Favero said the 80 refugees and asylum-seekers still held in PNG must also be removed from the limbo of offshore processing.
The Government confirmed last month in Senate estimates that it would continue to pay $350m as a "contingency", for its "enduring" offshore capability on the island.
FULL STORY
Last refugee on Nauru evacuated as Australian government says offshore processing policy remains (By Ben Doherty and Eden Gillespie, The Guardian)