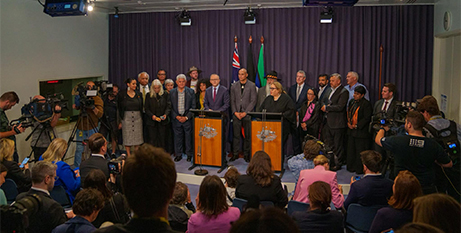 Prime Minister Anthony Albanese has shrugged off polls showing slipping support for the Voice to Parliament, but concedes the Government needs to "make it clear" what is at stake as the referendum campaign begins in earnest. Source: The Guardian.
Mr Albanese is confident of a yes vote in the referendum, expected in October, as he flags the Labor party will swing in behind the official Yes23 campaign to bolster its work.
"The ballot is not this Saturday. We have got to explain what it is about, we will continue to do so," Mr Albanese said.
The latest Newspoll, published in The Australian yesterday , found 43 per cent in favour of the Voice, 47 per cent opposed, and 10 per cent undecided. It's the latest poll showing slipping support for the Voice but stands in contrast to the Guardian Essential poll which has consistently shown a clear majority support the referendum.
In a series of media interviews on Monday, Mr Albanese downplayed the numbers, noting the several months until referendum day. The Government has long maintained that voters' attention would focus more strongly in the final month.
"I think that as Australians focus on what is before the Australian people in the last quarter of this year, recognition and listening, all upside, no downside for this proposal … I believe that a majority of Australians will come to the view that I have," Mr Albanese told the ABC.
"I'm very confident as people mobilise, when the campaign is actually on, you will have the business community, union movement, sporting codes, every one of which have supported the constitutional change. You will have faith groups out there arguing for a yes vote," he told Today.
The Government has come under fire from conservative critics over claims it is prioritising the Voice over everyday cost-of-living issues.
FULL STORY
Anthony Albanese says government needs to 'make it clear' what is at stake in voice referendum (By Josh Butler, The Guardian)