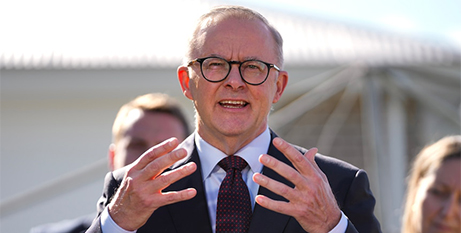 Prime Minister Anthony Albanese will be urged to provide free abortions across Australia and end offshore processing at Labor's upcoming national conference, as the party membership pushes the Government to adopt a more left-wing agenda. Source: The Australian.
The Australian revealed the motions that will be put up by Labor for Refugees and the influential women's group Emily's List, which is co-convened by NSW Left faction MP Sharon Claydon.
With the Prime Minister reluctant to pursue abortion reform after the issue hurt Labor with faith communities in the 2019 election, Emily's List will call for the ACT model of free abortions to be implemented nationally.
The motion will ask for free abortions and for the Government to pay for "travel costs for anyone living regionally and remotely when they are unable to access the service locally".
The group is pushing another motion demanding that all publicly funded hospitals provide abortion services, while a third motion would allow nurses and midwives to prescribe the "abortion pill".
If the motions win the support of a majority of delegates at the national conference in August, they will become part of Labor's policy platform for the next term of parliament.
In a motion expected to be put forward by Labor for Refugees, the group will call on Labor to agree "indefinite detention and boat turnbacks represent inhumane violations of Australia's obligations under international law".
Opposition immigration spokesman Dan Tehan said the national conference would be a "real test" for Mr Albanese's leadership.
"The fact that the Left have got control of the Labor Party federally should start alarm bells ringing right across the nation," Mr Tehan said.
FULL STORY
Labor Left to push Anthony Albanese on free abortions and to close Nauru (By Jess Malcolm and Sarah Ison, The Australian)