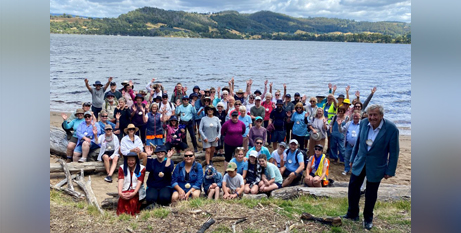 A Tasmanian pilgrimage has gained international recognition, with the Way to St James Cygnet being integrated with the Association of Friends of the Camino de Santiago's register of international organisations. Source: Hobart Archdiocese.
The inclusion of the Tasmanian pilgrimage with the association came following a visit in May by founder and South Hobart parish priest Fr Michael Tate to Santiago de Compostela in northwest Spain.
Fr Tate met with association director Ildefonso de la Campa and presented him with a stamped passport from the Way to St James Cygnet, a patch and a Tasmanian pilgrim scallop shell.
Fr Tate said the meeting was a great opportunity to strengthen the links between the Way to St James Cygnet and the Camino de Santiago in Spain.
"I thought it was important to establish a more formal link with the famous El Camino de Santiago," he explained.
"[Mr de la Campa] was thrilled to know that so far away from Spain, in this remote island off the coast of Australia, there was a pilgrimage, which in his own words, replicated the traditions and customs that characterised The Way of St James.
"He therefore was happy to register our pilgrimage in the Association of International Organisations, which share the same values as he put it, "of solidarity, peace, and harmony between peoples."
Inspired by the world-famous Camino de Santiago, the Way to St James Cygnet pilgrimage is held each year in January with pilgrims walking through the Huon Valley, passing through Mountain River, Ranelagh and Cradoc on their way to Cygnet.
In Cygnet, pilgrims process through the streets with an icon of St James to the Church of St James.
Details: www.waytostjames.com.au
FULL STORY
Way to St James Cygnet gains international recognition (Hobart Archdiocese)