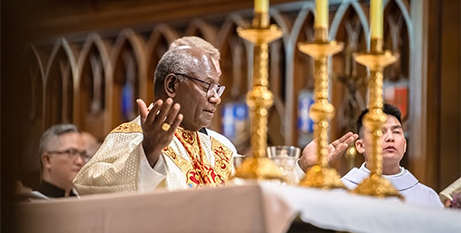 "Go into the whole world and proclaim the Good News" was the theme of a thanksgiving Mass at Sydney's St Mary's Cathedral for 25 years of the Missionaries of the Sacred Heart's Australian mission office. Source: The Catholic Weekly.
Papua New Guinean Cardinal John Ribat MSC presided over Mass on Sunday, which brought together faithful from all over the world — especially the office's regional partners Papua New Guinea and the Pacific Islands, Indonesia, India, the Philippines, Vietnam and Africa.
Choirs from Sydney's Filipino, Indonesian and Vietnamese communities led the singing, and hymns and prayers including parts of the Eucharistic prayer were prayed in different languages.
The offertory procession was led by Samoan dancers in traditional costume and the Gospel was processed by representatives of the Papua New Guinean community, accompanied by drums and the blowing of a conch shell.
The late Fr Adrian Meaney MSC established the office in 1998 to support a lay movement of outreach and support locally and internationally.
Speaking to supporters after the Mass, director Fr Roger Purcell MSC said that the understanding of mission had changed along with the Church's growth in developing countries.
Mission today means "to be more the Church that we are supposed to be, a church of communion, unity and diversity, respect and love".
Fr Purcell said the MSC mission office's purpose was "to encourage a missionary spirit among the faithful, encouraging all to become mission-minded".
"That's what we're here for. If the Church is not on mission, if we're not evangelising, then we're not Church."
FULL STORY
Missionaries of the Sacred Heart celebrate 25 years (The Catholic Weekly)