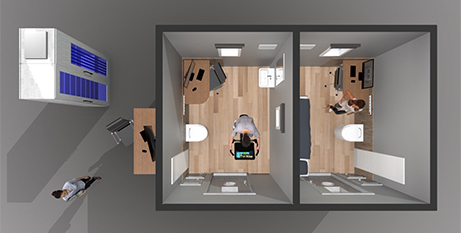 The Australian Catholic University will open a state-of-the-art human metabolic chamber at its Melbourne campus – the only one of its kind in the Southern Hemisphere.
This will reinforce ACU's position at the forefront of metabolic disease, exercise, and dietary research worldwide.
Designed and built by the world-leading team from Maastricht Instruments in the Netherlands, the metabolic chamber, also known as a whole-room calorimeter, will be installed before the end of the year with the first human studies scheduled to take place in early 2024.
The director of the Mary MacKillop Institute for Health Research, Professor John Hawley, said the new facility would strengthen the existing health research capacity of ACU, specifically in the areas of obesity, Type 2 diabetes, sleep, circadian biology, and sports nutrition.
Professor Hawley said research on the relationship between sleep and circadian biology was gaining traction, as the effects of our 21st century "round-the-clock" lifestyle are directly linked to a rise in many metabolic conditions.
Whole-room calorimeters are airtight rooms that monitor energy expenditure while sleeping, resting, and exercising as well as assessing the thermic effect of food. Patients or trial participants can live in the room overnight or in the case of chronic studies, for up to several days.
Fresh air is circulated into the room and as it flows out, a series of analysers measure the ratio of carbon dioxide and oxygen in real-time. This allows researchers to determine the contribution of the foods we eat (made up of fat, carbohydrate, and protein) to energy expenditure over the time spent in the chamber. Changes in the "fuel mix" are able to be detected after various interventions, such as over-feeding and energy deficit due to exercise.
ACU's Deputy Vice-Chancellor Research and Enterprise Professor Abid Khan said the new facility would complement the university's existing health research facilities and unlock new avenues of research for academic and industry research partners.
FULL STORY
 ACU's new metabolic chamber to be the only one of its kind in the Southern Hemisphere (ACU)