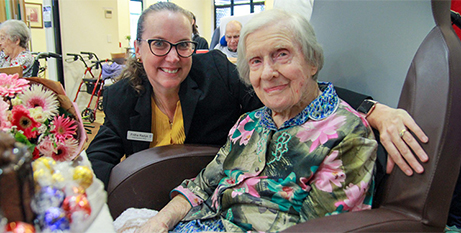 Sr Mary Jeanne Shoecraft RSM has marked her 105th birthday surrounded by family, friends and the nursing and support staff at Mercy Community's Bethesda Aged Care residence in Brisbane. Source: The Catholic Leader. 
Her milestone is testament to a life dedicated to serving others and a shining example of perseverance in the face of difficulties.
Born in Toowoomba, Queensland, in 1918, Jeanne was the middle child of 11 children.
Her twin sister, Julie, also entered the Brisbane Congregation of the Sisters of Mercy.
The sisters taught at many primary schools throughout the Brisbane Archdiocese and Toowoomba Diocese.
Sr Jeanne's sister, Julie (Sr Mary Eudes) died suddenly in 2013, but Sr Jeanne was blessed to have another sister present to celebrate her milestone, Berenice Winch, 94, and second cousins, Marie Nolan and Patricia Jefferies.
Sr Jeanne is one of three centenarians residing at Bethesda, along with Sister Mary Britton, 101, and 105-year-old Ita Lavercombe, who will turn 106 in January.
Sr Jeanne's niece Glenda Cuskelly said throughout her long life, her aunt had served tirelessly, offering spiritual guidance and compassion to families, children in need, and countless individuals from all walks of life in education and pastoral care.
"I think it's her faith that keeps her going," she said.
Until recently, Sr Jeanne has been able to recount stories of her early life and recall the sacrifices her parents made so that their children could have a good education.
During last Thursday's birthday celebrations, Mercy Community chief executive officer Fritha Radyk joined in the celebrations, presenting a bouquet of flowers to Sr Jeanne.
She said there were many other long-lived sisters across the Mercy Community Aged Care Services residences who were great examples of lives of great service and purpose.
FULL STORY
Religious sister turns 105 and celebrates a life of faithful dedication (The Catholic Leader)