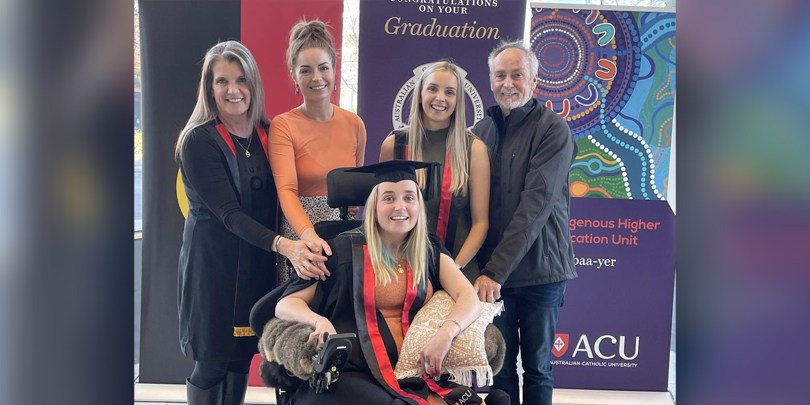 Australian Catholic University graduate Jade McAlear was in a coma following a horrific car accident when her distraught parents Karen and Zac received her degree on her behalf last year.
But now the inspiring 24-year-old has accepted her Bachelor of Occupational Therapy award herself in a special graduation ceremony organised by ACU's School of Allied Health and the Jim-baa-yer Indigenous Higher Education Unit.
Tears of triumph and joy were shed by family, friends and ACU staff as Jade received her degree in a moving ceremony in the amphitheatre of the university's new St Teresa of Kolkata Building in Melbourne.
Supported by her doting sisters Shai and Tyla, Jade walked across the stage to accept her award from ACU Faculty of Health Sciences Deputy Dean Professor Justin Kemp.
Jade said she felt "lucky" to be able to graduate in person.
"I feel really honoured that ACU put on a graduation for just me," she said. "It's awesome."
Karen, whose youngest daughter Tyla also recently graduated from ACU with a paramedicine degree, said it had been a long journey from Jade's accident in April last year to her graduation.
Jade, who was working as an occupational therapist at the time, suffered an acquired brain injury and multiple fractures after a car accident when she just one kilometre from home after returning from visiting a client. She was in a coma for four months.
With the support of medical and allied health experts, Karen is confident Jade, who has had several surgeries on her hands and feet and has 22 therapy sessions per week including occupational therapy, physiotherapy, swimming, and exercise therapy, will walk again.
Although unable to work as an occupational therapist, Jade and her family are also looking at ways she can share her experience and raise awareness about acquired brain injuries with allied health students and the wider community.
FULL STORY
ACU holds special graduation for inspiring student (ACU)
RELATED COVERAGE
Jade McAlear's sheer power of determination after horrific car crash (Herald Sun)