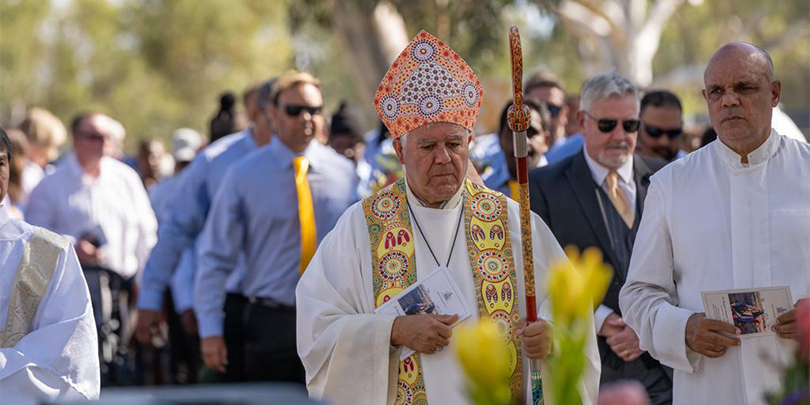 Hundreds of mourners gathered in a sea of purple, blue and yellow in Alice Springs to celebrate the "jewel" of Alice Springs, Dr MK Turner, at a state funeral celebrated by Darwin Bishop Charles Gauci yesterday. Source: ABC News.
The senior Arrernte elder, artist and author died last month, after a life spent empowering the next generation of Indigenous Territorians through education and language.
Dr Turner was born near the Spotted Tiger bore in the Harts Range region of Central Australia and grew up in the Santa Teresa mission.
During her life, she remained dedicated to the passing down of ancestral knowledge to the next generation, through her passion for teaching; revered as one of the greatest linguists in the region.
In 1997, she was given the Order of Australia Medal for her work in the First Nations communities of Central Australia.
In recent years, she worked with local organisation Children's Ground, which works to empower young children and address social, economic, and cultural challenges they face.
Mourners wore the Children's Ground colours of purple, blue and yellow, as they celebrated her life.
Granddaughter Janet Turner spoke of her grandmother as the "jewel" of their family.
"Nana was a jewel to our families," Ms Turner said. "She was the jewel of Alice Springs. There was no one like her. She touched so many lives."
The Darwin Diocese commemorated MK Turner in its online publication, Yarning.
"Her Catholic faith played a significant role in her life, as she believed that God created everything, including Aboriginal people and the land," the publication reported.
"She expressed her devotion, saying, 'I really like my Catholic faith, and what I've learned, and I still keep myself as arelhe urrperle, a true believing Aboriginal person … God created us and God created everything. He created us to look after the Land'."
FULL STORY
Senior Arrernte woman Dr MK Turner OAM remembered in state funeral in Alice Springs (By Lara Stimpson, ABC News)
State funeral to commemorate esteemed Arrernte Elder, fondly remembered as "jewel of Alice Springs" (Yarning)