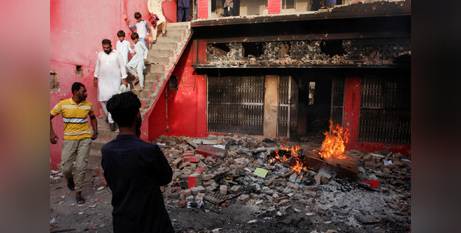 Bishops in Pakistan have called for prayer after an angry mob vandalised several Christian homes and churches in the district of Faisalabad on Wednesday following allegations of blasphemy and desecration of the Koran. Source: Crux.
In a brief social media post, the Pakistani bishops said on their "Catholics in Pakistan" Facebook page that "on 16th August, an enraged mob vandalised multiple churches in Jaranwala, Faisalabad, over blasphemy allegations," and asked followers to "pray for us".
The incident unfolded on Wednesday morning, as hundreds of Muslims armed with batons and sticks attacked a Christian community in Jaranwala, an industrial district of Faisalabad, damaging several homes and burning several churches after a Koran allegedly was desecrated by a young Christian man.
Both the Salvation Army Church and the St Paul Catholic Church in Jaranwala were attacked, with the mob setting them ablaze, while another mob attacked private homes nearby, setting them alight and breaking windows.
The violence erupted after pages torn from the Koran were apparently discovered near the Christian community with allegedly blasphemous content written on them. Those pages were then taken to a local religious leader, who reportedly told Muslims to protest and demanded that those responsible be arrested.
Angry protesters then went on a rampage, destroying the young man's house and attacking churches and other homes nearby.
Due to the scale of the violence, government officials deployed additional police forces and sent in the army to help restore order to the area. Police launched raids after clearing the crowd in an effort to identify perpetrators, and dozens have reportedly been arrested.
However, several videos circulating on social media show policemen watching the scene unfold without intervening.
A local priest, Fr Khalid Mukhtar, told the Associated Press that he believed most of Jaranwala's 17 Christian churches were attacked. He said his own house had been burned.
FULL STORY
Assaults on Christians over blasphemy charge latest twist in Pakistan's religious tensions (By Elise Ann Allen, Crux)
RELATED COVERAGE
Paul Bhatti reacts to destruction of Christian churches in Pakistan (Vatican News)