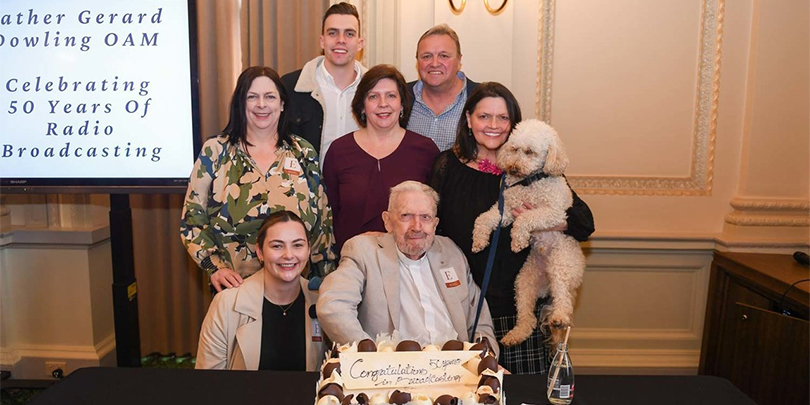 Melbourne priest, writer, counsellor and radio host Fr Gerard Dowling will officially mark the 50th anniversary of his radio broadcasting career on Sunday. Source: Melbourne Catholic.
Since 1973, Fr Dowling has hosted a regular spot on RSN 927 AM (formerly 3UZ) every Sunday from 10pm to 12am called The Family Counsellor. It is the longest-running show of its kind in Australia.
In the five decades that Fr Gerard has been hosting the show, he says, there has often been a current theme running through people's hearts and minds.
"Because it's a religious program, people are usually trying to discern what the Church represents and what faith means," Fr Dowling said. "It's nice to have the word 'faith', but in reality, what is it like in their day-to-day situation? That's basically what it's all about.
"I think it's helped people in their everyday lives. I just go in on a Sunday night, but I think it helps them for the rest of the week as they live out their faith in their working, home or school situation."
Fr Dowling, who turns 91 today, credits the success of his tenure on the radio show, and his writing career, to the experiences he's gained in his priestly ministry as a counsellor and as chaplain to various organisations, including Stella Maris and St Vincent's Hospital.
"I'm very fortunate that the things I've been involved in — the radio and the writing — are expressions of my priestly ministry.
"Counselling is a natural flow-out from my priestly work and is deeply enriched by this. For the many years that I've been a counsellor, it's been extremely fulfilling work."
Fr Dowling's golden jubilee on the airwaves was honoured at Victoria's Parliament House on August 17 with a celebration among friends, family and colleagues, hosted by RSN.
FULL STORY
Celebrating Fr Gerard Dowling's 50 years on air (By Fiona Basile, Melbourne Catholic)
RELATED COVERAGE
Fr Gerard Dowling, 50 years on radio, Family Counsellor – Congratulations (Missionaries of the Sacred Heart)