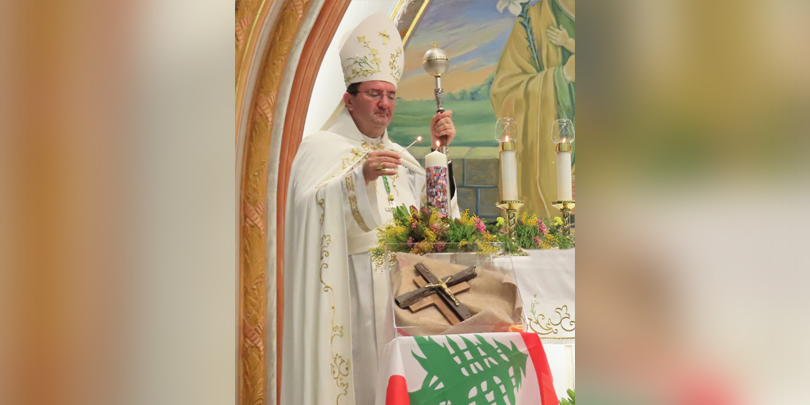 Maronite Bishop Antoine-Charbel Tarabay has called for solidarity and action for Lebanon's education system, asking Australians to support struggling schools in the country. Source: Maronite Eparchy.
"The future of Lebanon passes first through the school," Bishop Tarabay said.
As the Maronite Eparchy of Australia this year celebrates its Golden Jubilee since its official establishment, a key focus is assisting struggling schools in Lebanon, the spiritual homeland of the Maronites.
Maronite schools, once known for educational excellence across Lebanon, are faced with an existential crisis. With families on the brink of financial collapse, the future of these schools hangs in the balance, further threatening the future of Lebanon.
Reports from the United Nations show the staggering reality of education in Lebanon: 38 per cent of households have been forced to cut education budgets and 16 per cent of children have been compelled to drop out of school. With the future of an entire generation now endangered, there are grave concerns for the future of Lebanon as a nation.
Charity has long been at the heart of Australia's Maronites, who always come together to assist their brothers and sisters in Lebanon through various challenges.
The Maronites are hosting a Golden Jubilee Dinner, in the presence Cardinal Mar Bechara Boutros Rai, Patriarch of Antioch and All the East, at Rosehill Gardens on September 21.
Funds from the dinner will go directly towards paying the school fees of struggling families in Lebanon, helping students gain an education and helping schools stay open.
"Without good education, Lebanon will lose the heart of its mission and message," Bishop Tarabay said.
"It is now more important than ever to hold on to that message of freedom and spread it far and wide, to ensure that hope remains for Lebanon and its people."
FULL STORY
Lebanon's message, is the heart of its mission (Maronite Eparchy)