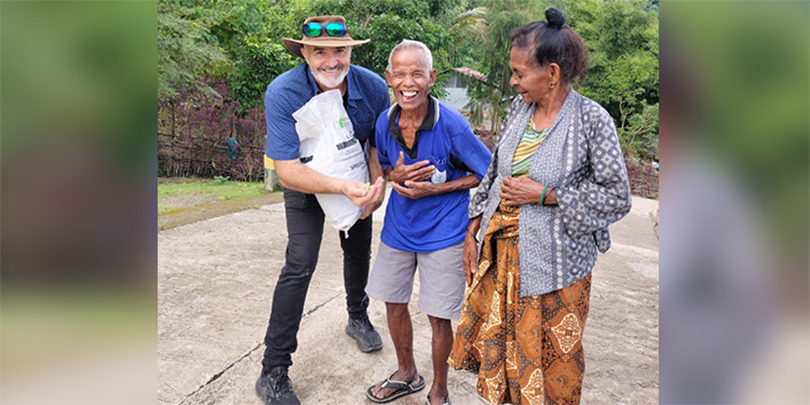 High in the mountains of Timor-Leste, a monastery is taking shape with support from missionary volunteers and donations from Brisbane parishioners. Source: The Catholic Leader.
The Missionaries of the Poor monastery is rising through the clouds that often blanket the tiny community of Saburai, near the peak of a 1600m mountain in the country's western ranges.
"It really is a marvellous project," Brisbane volunteer Tony Harris said.
He is a parishioner from St Rita's parish in Victoria Point, lending his expertise as a fitter, plumber and water consultant.
"When I am working I look around at the mountain and I think this really is God's country."
In 2015, MOP priests arrived in Timor, invited by the Bishop of Dili to offer corporal and spiritual support to the many disadvantaged and destitute families in the Saburai region, including villagers abandoned by their families because they had leprosy.
Mr Harris and other Brisbane-based volunteers regularly visit to lend their skills and to help in MOP outreach to poor villages.
"We take food parcels, medicines and blankets," he said. "We go with local chiefs and distribute the parcels."
On a recent trip another Brisbane parishioner, Dr Helen Sadumiano lent her medical expertise to carry out health checks and treat village patients.
The Saburai monastery will house up to 50 seminarians when it is completed in the second half of 2024, providing a contemplative sanctuary for study and spiritual growth, as well as a base for MOP support to mountain villages. The project will include a chapel, dormitories and a clinic.
MOP brothers have enlisted local residents to help build the monastery – providing them with regular work and also the opportunity to learn construction skills.
Mr Harris said support from Brisbane parishioners were helping to change lives in Saburai.
"It's donations from mums and dads – the rank and file that fill the pews each week," he said.
FULL STORY
Meet the Brisbane parishioners helping to build a monastery in Timor Leste (By Mark Bowling, The Catholic Leader)