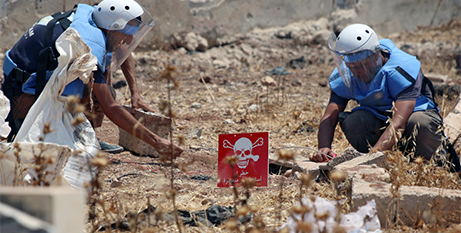 A Holy See delegation at a meeting of nations who are parties to the Convention on Cluster Munitions has urged countries that have not yet done so to sign the treaty, which prohibits the "use, development, production, acquisition, stockpiling and transfer of cluster munitions". Source: NCR Online.
The treaty also forbids assisting or encouraging anyone to engage in prohibited activities.
According to a Vatican News report, the Holy See delegation in Geneva praised Nigeria and South Sudan for becoming the latest countries to sign on to the convention this year, bringing the total number to 112.
"Any additional state party to the convention represents a renewed impulse to achieve universality, further ensuring that there will be fewer victims in the future and that those who already have tragically been affected can be properly assisted," the delegation said on Monday.
Cluster munitions are air-dropped or ground-launched explosives that contain smaller submunitions, which increase the blast radius and the potential casualties and damage to physical structures.
"Many submunitions are unreliable and fail to explode, thus creating a potential humanitarian impact on civilians both during as well as long after the conflict ends," said a website about the convention, which requires nations that sign it to "separate all cluster munitions under its jurisdiction and control from munitions retained for operational use and mark them for the purpose of destruction."
The Holy See highlighted the convention's fundamental principles, especially its "unequivocal reaffirmation of the preeminent and inherent value of human dignity and the centrality of the human person".
The United States is one of more than a dozen countries, including North Korea, Iran, Russia and China, that are not party to the treaty, which came into force in 2010.
FULL STORY
Holy See urges more nations to sign on to convention banning cluster munitions (By Julie Asher, NCR Online)