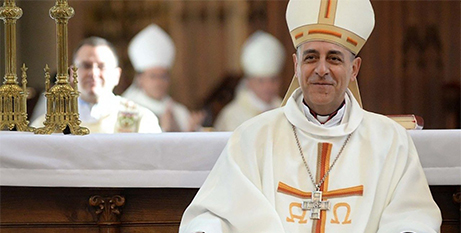 When Pope Francis said he wanted the focus of the Dicastery for the Doctrine of the Faith to be "something very different" from its reputation as a stringent watchdog, he was not saying anything goes, the dicastery's new prefect said. Source: CNS.
"It is clear that at no time does the Pope say that the function of refuting errors should disappear," Cardinal-designate Víctor Fernández told the Rome-based Jesuit journal, La Civiltà Cattolica, in an interview published yesterday.
When Pope Francis named the Argentine theologian to the post in July, he released a public letter saying the dicastery's "central purpose is to guard the teaching that flows from the faith in order to give reasons for our hope, but not as an enemy who critiques and condemns".
Cardinal-designate Fernández said the dicastery's approach is key.
"Clearly, if someone says that Jesus was not really human or that all immigrants should be killed, a decisive intervention will be necessary," he said. "But at the same time, this will provide an opportunity to grow, to enrich our understanding."
As an example, he said, a person who denies Jesus' humanity may have a "legitimate intention to better show the divinity of Jesus Christ" and one who is against immigrants may be trying to draw attention to flawed laws and policies.
"A fundamental criterion to be preserved is that 'any theological conception that ultimately questions God's omnipotence and, especially, his mercy' must be considered inadequate," Cardinal-designate Fernández said, quoting Pope Francis' letter to him.
The Pope also asked him "to bring theological knowledge into dialogue with the life of the holy people of God", responding to new challenges and questions.
For that dialogue to work and for the Church to effectively communicate the response of Christian faith, the cardinal-designate said, Catholics must be willing to embrace "an asceticism: to tolerate with charity the recurring aggressiveness that assails us".
"Might society's questioning be a mediation that God himself uses to disarm us, to open us to something else?" he asked.
FULL STORY
Doctrine is 'treasure' that must be defended, cardinal-designate says (By Cindy Wooden, CNS via USCCB)