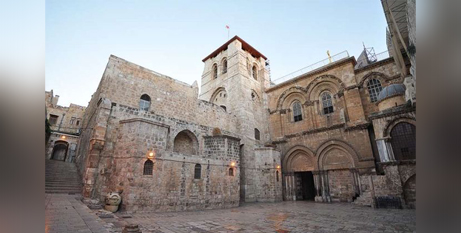 Jerusalem's Church of the Holy Sepulchre, one of the holiest places in the world for Christians and an important pilgrimage site since the fourth century, is revealing more of its secrets. Source: CNA.
Ongoing archaeological investigations related to the restoration of the basilica's floor are at a turning point, with many surprises coming to light.
The latest findings emerged during the investigations conducted in June in the area in front of the edicule — the small shrine that encloses the tomb of Jesus located under the big dome of the basilica.
The excavations have exposed the marble steps leading to the edicule and a coin deposit, which were most recently minted during the reign of Emperor Valens (364–378). This allows archaeologists to accurately date the early Christian edicule to that period.
Located in the northwest quarter of the Old City of Jerusalem, the Church of the Holy Sepulchre is believed to be the site of Jesus' crucifixion, death, and resurrection. Constantine the Great built the first church there, dedicated in about 336 AD. His mother, St Helena, was believed to have found a relic of the cross of Christ's crucifixion on the site. Almost 300 years later, the Persians burned the church down, after which it was restored, destroyed again, and restored once more. The Crusaders in the 12th century undertook a rebuild of the site, which included a chapel in St Helena's honour. Since that time, frequent restorations and repairs have taken place.
Other discoveries that emerged during the first year of work, which began in March 2022, involve the remains of an early Christian liturgical basilica and the foundations of the northern perimeter wall of the complex and the water drainage system
FULL STORY
New discoveries may change what we know about Jerusalem's Basilica of the Holy Sepulchre (By Marinella Bandini, CNA)