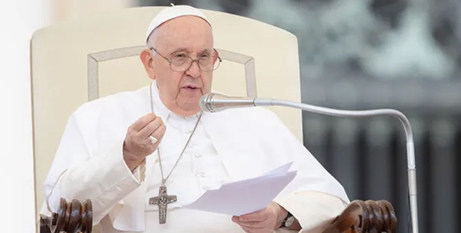 One day after Azerbaijan launched a new military operation against the disputed region of Nagorno-Karabakh, Pope Francis made a public appeal for both sides to "silence the weapons". Source: CNA.
Speaking to more than 15,000 people in St Peter's Square yesterday, the Pope said that he was troubled by the news he received on Tuesday from Nagorno Karabakh, where "the already critical humanitarian situation is now aggravated by further armed clashes".
"I make my heartfelt appeal to all the parties involved and to the international community to silence the weapons and make every effort to find peaceful solutions for the good of the people and respect for human dignity," Pope Francis said at the end of his Wednesday general audience.
Nagorno-Karabakh is a disputed region in Azerbaijan that is home to about 120,000 Armenian Christians. Ethnic Armenians in Nagorno-Karabakh deny Azeri control of the region and claim self-sovereignty under the auspices of the "Republic of Artsakh".
The South Caucasus region has been a flashpoint since Nagorno-Karabakh declared independence from Azerbaijan after the fall of the Soviet Union, sparking a war between Armenia and Azerbaijan over the territory that resulted in the deaths of tens of thousands of people in the 1990s.
In 2020, with the backing of Turkey, Azerbaijan reignited the long-simmering conflict by invading Nagorno-Karabakh. The six-week conflict ended in Azerbaijan seizing control of Nagorno-Karabakh.
A critical humanitarian situation developed in Nagorno-Karabakh this year after Azerbaijan began to restrict access to the Lachin Corridor, the sole road connecting the breakaway region to Armenia, in December 2022, cutting off access to food and medical aid.
The Azeri government on Tuesday called the strikes "anti-terror measures" against "illegal Armenian military formations." Azerbaijan said the attacks will not stop until the ethnic Armenians completely surrender.
Late last night, BBC News reported that Azerbaijan and ethnic Armenians had declared a ceasefire. Under the agreement, ethnic-Armenian forces in Nagorno-Karabakh will be disbanded and completely disarmed.
FULL STORY
Pope Francis appeals for peace in Nagorno-Karabakh: 'Silence the weapons' (By Courtney Mares, CNA)
Nagorno-Karabakh: Conflict between Azerbaijan and Armenians explained (BBC News)