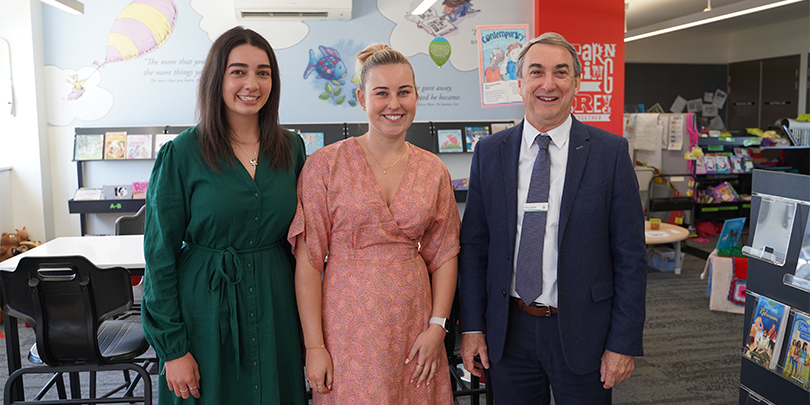 Catholic schools in Armidale Diocese have continued to build their partnership with the University of Notre Dame Australia by placing teaching students in Tamworth to give them a taste of the career opportunities that can be pursued in the bush.
Tamworth is the biggest regional hub of the Armidale Catholic Schools system, with three Catholic primary schools and one secondary school. Placing student teachers in Tamworth not only allows for a positive learning experience in the classroom, it also provides the opportunity for them to be immersed in the unique social, sporting and cultural aspects of the town.
Armidale Catholic Schools director Chris Smyth met with the university students to discuss their experience and was impressed by their passion and willingness to embrace the culture and a learning environment that is out of their comfort zone.
"This is a fantastic opportunity to promote initial education in our regional, rural and remote setting," Mr Smyth said.
"Teacher graduates are well supported with a professional learning community, Catholic context and a culture that is collaborative with a real focus on learning and deliberate results orientation towards improving the learning and faith outcomes of young people in our schools "
The partnership is one of a number of UNDA initiatives nationally which aim to support pre-service teaching students. Students opt in to a regional or rural town for their pre-service professional experience placement. They are placed in pairs to minimise the feeling of isolation that some students may experience in a new town.
Notre Dame national head of school David Geelan said: "Schools in rural and regional dioceses across Australia are currently very keen to employ new graduates to help them staff their classrooms.
"Students from urban settings are more likely to take up some of the fantastic career opportunities in regional schools if they get a taste of the schools and the lifestyle on their professional experience placements. It gives them confidence and a sense of familiarity with the new context."
FULL STORY
Aspiring educators choosing regional experiences (Armidale Catholic Schools)