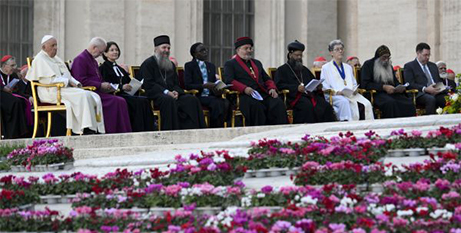 On the eve of the Synod of Bishops on Synodality, Pope Francis joined other Christian leaders in praying that the event will be a unifying process free from ideological and polarised division. Source: Crux.
Speaking during an ecumenical prayer vigil in St Peter's Square on Saturday night, Francis prayed that the Synod would be "a kairós of fraternity, a place where the Holy Spirit will purify the Church from gossip, ideologies and polarisation".
Saturday's vigil was organised by the Taizé Community ahead of the October 4 opening of the Synod of Bishops on Synodality, which will close October 29 and is the first of two Rome-based gatherings closing the Synod process, the second of which will take place in October 2024.
Earlier on Saturday, Pope Francis held private meetings with the Ecumenical Patriarch of Constantinople, Bartholomew I; the Archbishop of Canterbury, Justin Welby; and Syrian Orthodox Patriarch of Antioch, Ignatius Aphrem II, and their delegations.
The three religious leaders were in Rome to attend Saturday's prayer vigil, held in St Peter's Square and which faithful from various confessions were invited to attend.
Francis, in his address at the prayer vigil, thanked the various church leaders and representatives present, saying, "Let us walk together, not only Catholics, but all Christians, all of the baptised, the whole People of God, because only the whole can be the unity of all."
He reflected on the importance of silence, which he said "is essential to the life of a believer" as it lies at the beginning of Jesus's earthly existence, in the manger, and at the end of it, on the cross.
"In a world full of noise, we are no longer accustomed to silence; indeed sometimes we struggle with it, because silence forces us to face God and ourselves. Yet it lies at the foundation of the word and of life," he said.
Christians, the Pope said, "need to free ourselves from so much noise in order to hear his voice. For only in our silence does his word resound."
FULL STORY
On Synod's eve, Francis joins other Christian leaders in praying for unity (By Elise Ann Allen, Crux)
RELATED COVERAGE
Before Synod retreat, Pope prays for listening instead of polarisation (By NCR Online)