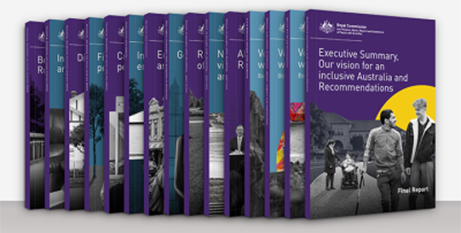 The final report of the disability royal commission has made 222 recommendations to improve the lives of the 4.4 million people living with disabilities in Australia. Source: SBS News.
It comes after the Royal Commission into Violence, Abuse, Neglect and Exploitation of People with Disability held 32 public hearings with evidence from 837 witnesses, 7944 submissions from people with disability and their families, and 1785 private sessions.
The report, which was released on Friday, recommends the establishment of a Disability Rights Act to enshrine the international human rights of people with disabilities into domestic law.
It also calls for the establishment of a National Disability Agreement and National Disability Commission, along with changes to health, guardianship, schooling, employment, the justice system and housing.
The report also makes a series of recommendations around ending segregation, which has been a major focus of advocates and members of the community.
In a guide to the report, the commissioners wrote: "The vision for an inclusive Australia in our Final report is of a future where people with disability can live, learn, work, play, create and engage together with people without disability in safe and diverse communities [and] have the power of choice, independence and the dignity to take risks."
The report said people should be able to make contributions to communities that value their presence, be treated with respect, and be culturally safe in families, communities and peer networks.
Minister for Social Services Amanda Rishworth said people with disability had been let down by "services, systems, institutions, governments and community".
"We welcome the Disability royal commission's final report and we support its vision of a more inclusive society where violence, abuse, neglect and exploitation of people with disability is just not acceptable," she said.
"The message of this report is clear – we do need to do better."
FULL STORY
Disability Royal Commission report calls for urgent change to end segregation and abuse (By Jessica Bahr, SBS News)
RELATED COVERAGE
Disability royal commission makes sweeping recommendations (The Age)