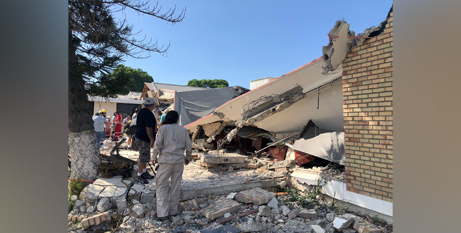 The collapse of a Catholic church roof during a service in northern Mexico has killed at least 10 people and injured 60, and searchers said yesterday that no further people were believed to be trapped in the wreckage. Source: NCR Online.
State police had initially estimated about 100 people were inside the church in the Gulf coast city of Ciudad Madero when it collapsed during a baptism on Sunday, and said that approximately 30 parishioners may have been trapped in the rubble when the roof caved in.
But Tamaulipas state governor Américo Villarreal later said only 70 were believed to have been inside. That represented a kind of miracle in itself; a parish priest said that just minutes before, a Sunday Mass attended by as many as 300 people had ended and people had exited the church moments before the collapse.
The collapse occurred on Sunday at the Santa Cruz church in the Gulf coast city of Ciudad Madero, next to the port city of Tampico, just as a baptism was being held.
Three of the dead were children, and on the list of people who had been injured were a four-month-old baby, three five-year-olds and two nine-year-olds.
"Unfortunately, the elderly and children were those who suffered the most, the ones who were most trapped, the ones who suffered the most deaths, I think," said Fr Pablo Galván, a priest who was just outside in the church parking lot on Sunday when the collapse occurred. He had just finished celebrating the main Mass.
Describing that moment, Fr Galván said, "The roof just simply and plainly collapsed, like an implosion, like when you crush a can.
"It fell, there was no time to do anything. It was like two seconds. We still can't understand what happened," he said.
FULL STORY
10 people are dead after Mexico church roof collapses (By Alfredo Pena, AP via NCR Online)