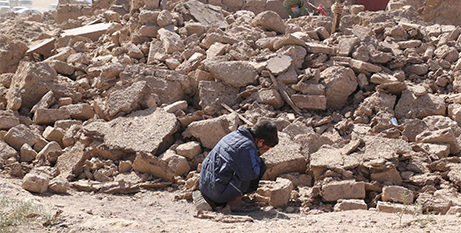 The death toll in one of the deadliest earthquakes to strike Afghanistan in two decades is approaching 3000, Taliban officials confirmed. Source: NCR Online. 
The 6.3 magnitude earthquake struck on October 7, 40 kilometres west of Herat city in the western Herat province.
Initial assessments of the United Nations indicated that the quake caused deaths across eight villages. Mahal Wadakah was the worst affected village.
Rescuers said they had found a further 350 bodies late on Sunday after officials previously put the death toll at 2445, The Guardian reported.
Following the initial quake, which struck at about 11am local time, several aftershocks have occurred, with tremors felt in neighbouring Badghis and Farah provinces, according to OCHA, the UN humanitarian office.
"Once again, children and families in Afghanistan have been affected by a devastating earthquake, this time in western Herat province," UNICEF Afghanistan said in a post on X, formerly known as Twitter, on October 7.
The presence of Church charity organisations is close to zero with the Taliban government, an official from one of the Catholic organisations told OSV News. Some try to work with local partners, however.
"Our humanitarian partners have begun relief efforts, sending medical and trauma support to regional hospitals, as well as emergency shelter, food assistance and other supplies to the affected area," Anne Bousquet, Catholic Relief Services' country representative for Afghanistan told OSV News over email. CRS is the international relief and development agency of the Church in the United States.
"CRS, along with other humanitarian organisations, are participating in assessments to determine the scale of the damage and needs in Herat to identify where CRS can best support the response efforts."
Earthquakes are a regular phenomenon in a country that often experiences seismic activity.
FULL STORY
Earthquake kills 2000 in Afghanistan — a Taliban-run country with virtually no presence of church aid agencies (OSV News via NCR Online)
Afghan earthquake survivors sleep amid rubble as death toll nears 3,000 (The Guardian)