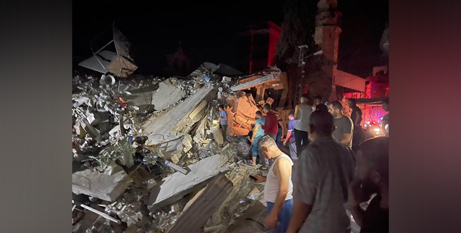 A Caritas staff member and her family were among at least 17 people killed in an airstrike on a church compound in Gaza on Thursday night. Source: The Tablet.
The strike destroyed a building close to the Greek Orthodox Church of St Porphyrios. The Orthodox Patriarchate of Jerusalem condemned the attack as "a war crime that cannot be ignored".
It said that many more Christian and Muslim refugees who had been sheltering in the compound were injured. Aid to the Church in Need reported that 15 were trapped under the rubble.
Caritas Australia said the church compound was sheltering around 500 people, including five Caritas staff, with around 80 in the church hall when it was hit. Among the victims were a 26-year-old Caritas Jerusalem lab technician, who lost her life alongside her toddler and husband. Her sister and her two children were also among the casualties.
In a statement on Saturday, Caritas Australia chief executive Kirsty Robertson said: "Today, with heavy hearts, we pray for those who lost their lives in this attack, all those who have lost their lives in this conflict, and all continuing to live through these unimaginable days in Gaza.
"We pray for our Caritas Jerusalem brothers and sisters, that they may find the strength to deal with the harrowing challenges they face.
"I draw from the words of Pope Francis: "Let the weapons be silenced; let the cry for peace be heard from the poor, from the people, from the children". We stand in solidarity with our colleagues and pray for the safety and protection of all civilians. We pray for peace."
The Israeli Defence Forces issued a statement on Friday saying that the compound had been hit by fighter jets targeting a nearby Hamas command post.
"The IDF can unequivocally state that the church was not the target of the strike," the statement said, adding the incident was under review.
To support Caritas Australia's Gaza Appeal, visit www.caritas.org.au/donate/emergency-appeals/gaza-crisis/    
FULL STORY
Rising death toll after IDF airstrike hits Gaza church compound (The Tablet)
Caritas Jerusalem employee killed while sheltering with her family in Gaza (Caritas Australia)