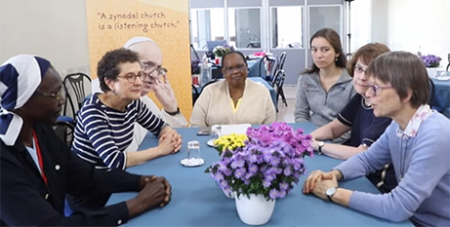 A group of experts, including several Australians, has met in Rome to draft the working document of the continental phase of the global Synod on Synodality. Source: NCR Online.
Australians Susan Pascoe, Fr Ormond Rush and Perth Archbishop Timothy Costelloe SDB were among the group of about 30 lay people, theologians, pastoral workers and bishops who met from September 22 to October 2.
Sydney Archbishop Anthony Fisher OP, a member of the Ordinary Council of the Synod of Bishops, was also in Rome for the meetings.
"There is a tremendous sense of common purpose among us," said Ms Pascoe, who has held a number of senior roles in both the Australian government and Church. "Each of us feels an enormous responsibility to faithfully draw out what the people of God submitted."
Ms Pascoe said representatives from six continents worked to "authentically" synthesise the reports of 112 participating episcopal conferences to produce a new document that will guide the Synod's next phase, which will take place through continental ecclesial assemblies in early 2023 ahead of a Rome meeting in October 2023.
On the opening night of the summit, Ms Pascoe said, all the participants were asked to bring a symbol of what synodality means to them and place it at the altar.
She brought a copy of the Uluru Statement from the Heart. "What better example of synodality is there than that?"
FULL STORY
Synod advisers meet outside Rome to consider 'time for change' in Catholic Church (By Christopher White, NCR Online)