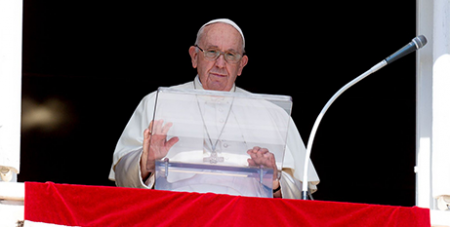 Pope Francis yesterday made a direct appeal to Russian President Vladimir Putin for an immediate ceasefire, imploring him to end the "spiral of violence and death" in Ukraine. Source: CNA.
Speaking from the window of the Apostolic Palace yesterday, the Pope dedicated nearly all of his Angelus address to the war in Ukraine.
"I deeply deplore the grave situation that has arisen in recent days … It increases the risk of nuclear escalation, giving rise to fears of uncontrollable and catastrophic consequences worldwide," Pope Francis said.
"My appeal is addressed first and foremost to the president of the Russian Federation, imploring him to stop this spiral of violence and death, also for the sake of his people," he said.
The Pope also appealed to Ukrainian President Volodymyr Zelenskyy to be "open to serious proposals for peace" and to the international community to "do everything possible to bring an end to the war without allowing themselves to be drawn into dangerous escalations".
He said: "After seven months of hostilities, let us use all diplomatic means, even those that may not have been used so far, to bring an end to this terrible tragedy. War in itself is a mistake and a horror."
The Pope's five-minute speech on the war in Ukraine from a window overlooking St Peter's Square was a departure from his typical Sunday routine.
Pope Francis underlined that he chose to devote his entire reflection to Ukraine because the course of the war has "has become so serious, devastating, and threatening that it has caused great concern", saying he was "saddened by the rivers of blood and tears spilled in these months".
"In the name of God and in the name of the sense of humanity that dwells in every heart," he said, "I renew my call for an immediate ceasefire."
FULL STORY
Pope Francis appeals to Putin for an immediate ceasefire in Ukraine (CNA)
RELATED COVERAGE